Prev
Next
Top
84-12-19
*

Letters from Elin, Joe, Bjorn, and Jon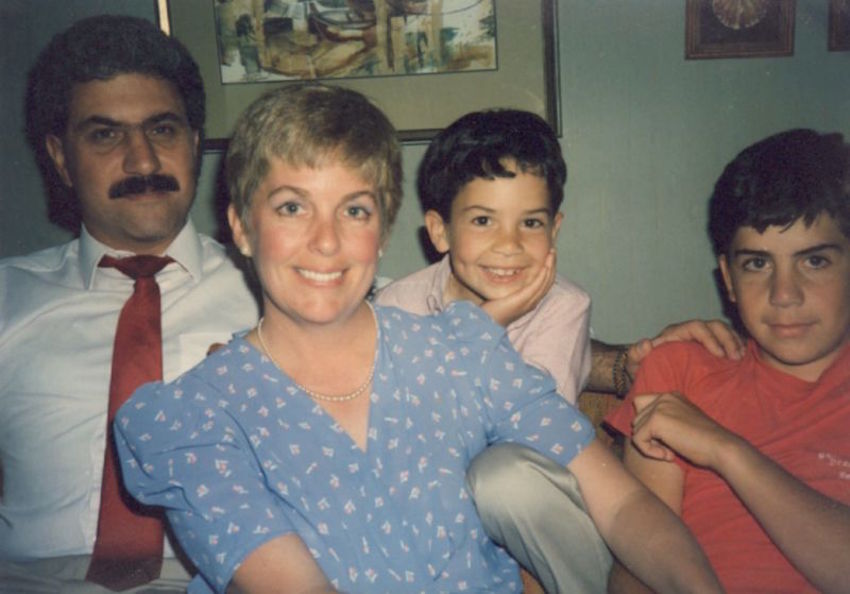 December 19-84
Dear Jon,
We've loved seeing the souvenir box and reading your letters. Bjorn & Jon took the comic book, a couple of the postcards, and the "Baby Bjorn" stuff home with them from mom & dad's. I can imagine that your times are wonderful - and it is amazing we are really all alike.
Joe and I have been home from our trip for about a month and a half, and we are still pinching ourselves - was it really as wonderful as we remember? & experienced? Yes. I would recommend Taiwan over Hong Kong - but both are memorable. Perhaps because we went to Hong Kong after our wonderful week in Taiwan am I so pulled to Taiwan. Hong Kong is an immense city - islands, harbor, etc. We actually stayed in Kowloon - a 3 minute ferry ride from Hong Kong. Kowloon is the real "shopper's paradise" - it reminded me of Las Vegas - crowded, crowded, crowded. The whole H. K. area, we were told, has 11,000 taxicabs, a very few moderately priced cars, and more large Mercedes - limos - Rolls Royce - than I've ever seen in my life - all run by diesel, which makes the air quality horrendous. The disparity between the rich & poor seems much greater there than in Taiwan - however, in T. there are not the incredibly wealthy that was so apparent in H. K. The shopping in H. K. is something - the greatest buys, I think, in jewelry, furs, etc. of which we bought none. Joe did have a suit made at a tailor in our hotel - it took only 2 days! We also purchased jackets, a silk dress for me, some silk pieces for mom and Freda for Christmas, silk p.js for dad, and little souvenir-type stuff for the kids.
We also took the sampam trip of Aberdeen Village, the boat people area - Joe said it was like taking a boat ride on the sewer - and did go into the new territories up to Red China border. We ate all "American" food in H. K. also - McDonald hamburgers & fries & shakes - spaghetti - and a wonderful wonderful dinner at the Excelsior Hotel. In H. K. you get along fine speaking only English - nowhere did we need translators. We spent 2 1/2 days in H. K. - just enough. If I had a lot of $ some day and were in the market for jewelry, I would return.
We spent the bulk of our time - 8 days - in Taiwan, going 100 miles an hour all the time. Our tour was all arranged for us, with incredibly little free time. It was obvious that they wanted to show us the nicest and most beautiful of the country - as well as give us a knowledge of the people - and the food. It sometimes seemed that we went from one Chinese banquet to another - having 2 daily. Every city council, etc. hosted us in the best their area had to offer - all 12 courses, and our last meal, a memorable 18! We became very adept with chopsticks, and Joe learned about the "Taiwan Terror" stomach disorder.
We visited the national museums, Chang Kai Shek's memorial & grave, Chinese Youth Corps, an art academy, etc. Perhaps our most wonderful visits were to the Taroko Gorge, and to Chung Ho Elementary School, however. To get to the Gorge we took a 4 hour train ride down the east coast of the island on which we saw much of the country. The island is very tropical - growing sugar cane, pineapple, rice, etc. We saw the primitive water buffalo & plow - double baskets on poles, bamboo scaffolding, and so on - just like in National Geographic. We also visited a marble factory later that day - OSHA would have had a fit! - and spent the night in Hualien (another wonderful meal!).
The Taroko Gorge leads you through the middle of the island on the East-West Highway and over a 10,000 foot summit. The trip took about 10 hours driving on the most terrifying road I've ever been on. Only large "Greyhound" type buses make the trek - we saw only one or two private cars the whole day - and the drivers are excellent. Most of the road is only one lane and, in the Gorge area, is carved out of limestone and marble. The cliffs were 10,000 feet sheer drops - (We were dining that night with the speaker of the Provincial Gov't, so were dressed up. Someone had said it was so we'd all be ready for our funeral!) Despite the thrill of the ride, the Gorge is perhaps the most beautiful place I've ever been. It's immensity was overwhelming - like that of the Canadian Rockies. The marble cliffs - the beautiful mountains - the hundreds of waterfalls made me feel like I was in the middle of a Chinese brush painting. Sometimes things are gained in translation - our guide suggested we not even try to get photographs - and simply appreciate the "nature of beauty". I'll never forget that.
It was an exhausting day - physically & emotionally. (I forgot to tell you - a tyhpoon had just come through the area, and with it lots of water. Because of that we saw many more waterfalls than travellers usually do, but also experienced more hazardous roads - caving ins - land slides. The bus ahead of us got through at one point, but we didn't. A bulldozer carefully carved a one lane road out of the ledge for us!)
On our last day in Taiwan, we visited Chung Ho Elementary School - 8700 children attend school there. We were greeted by a brass band playing "Stars & Stripes Forever" - 100 or so city dignitaries - American & R.O.C. flags - banners - etc. A reception w/speeches, orchestra, presentations was first. Then we were escorted over to the school classroom area - huge 3 story buildings around a central quad area. All of the children were out to greet us - as we walked in small groups into this area, waves of cheers greeted us. I felt as though we were real representatives of the U.S. - and were loved and honored for being just that. The children performed for us - and I was able to meet a 3rd grade teacher - my class and hers are corresponding. What a thrill for my children to receive letters written in Chinese - and pictures, too.
Anyway, it was a trip of a lifetime. We couldn't replicate it on our own ever. I hope you are experiencing some of these wonderful feelings & times. I feel better about you being so far away knowing that you might be.
We're all fine - working hard - and all that.
Mom and Dad will be here Christmas Day - Joe's folks Christmas Eve. I'm going to make lefse tonight, so then we'll be all ready.
We think of you so often - and my children in my class pray for you almost daily.
Love,
Elin
---

Dear Jon,
How is the world traveller of the Bjornstad clan? Fine, I hope.
Now that Elin has shared with you the journey to the Republic of China and Hong Kong I will give you the latest update on the home front.
This year I helped coach a soccer team. It was the team that Jon was on - we finished the season with 11 wins and only one loss. Now we play in the Cup tournament. Bjorn's team wasn't so successful. It only had 1 win.
My dissertation is still waiting to be completed. I hope to gain final approval of the first three chapters before Easter. It would be nice to complete the entire paper by September. Work has been very difficult. My boss, Bill Gainer, died last month. The work environment is quite turbulent and unhealthy. I think it is time for me to leave the County Office. This is an extremely difficult decision after being an employee there for 15 years. I will begin in January to seek employment elsewhere.
Good News! I bought a new Mazda Truck! We've sold the old truck and the Peugeot. Now we have 2 good economical vehicles.
For Christmas your folks have purchased a HO train set for the boys. Your Dad has painstakingly laid the track on plywood. I can hardly wait for the boys to begin to play with the set ... then I can play, too!
Lastly, we are having a new shower installed. I wasn't going to mention it but Elin insisted. Soooo ... now you know - Newsworthy eh!!
Merry Christmas, Jon - Be careful & Peace Be with You.
Fondly,
Joe
---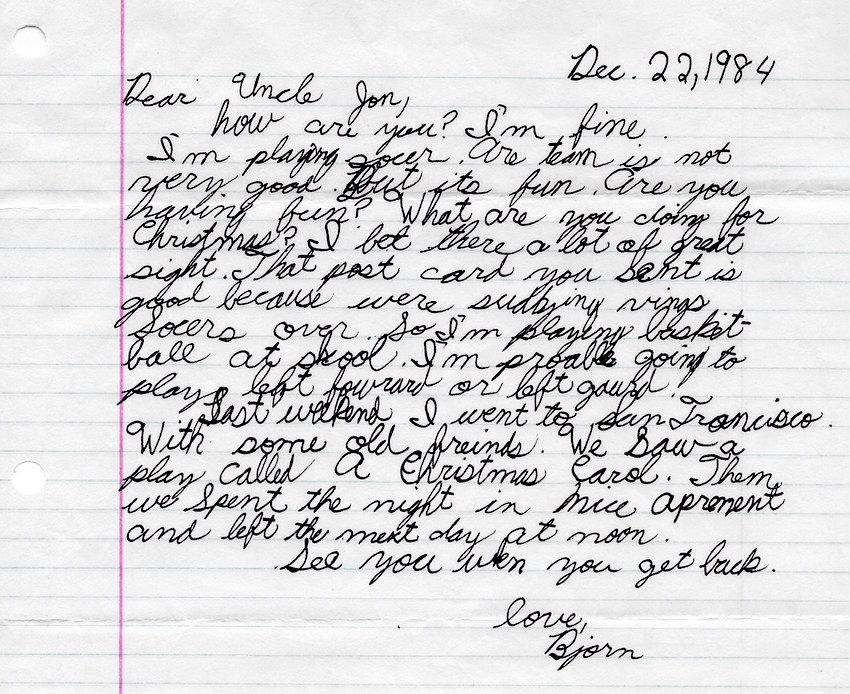 (sudbjing vings => studying Vikings, I think)