Prev
Next
Top
84-11-25
Last Letter from Iceland, Itemization of Christmas box
November 25, 1984
Dear Mom and Dad,
I've been in Iceland quite a while now. Who knows where I'll be next week! I'm getting used to not understanding the language (although I learn some new vocabulary words each day), to the doorhandles, to the weather, and the length of the days. Last Monday and Tuesday I stayed in the youth hostel in Akureyri and rested and wrote in my journal (I'm catching up - I've a long way to go - I'm still in Hamilton!) and went swimming and sent some postcards.
Tuesday night I met a young woman from West Germany named Lisa at the youth hostel. She asked if I was going to Lake Mývatn. I say, "No, I just came from there." She was looking for a ride since she had just missed the bus. We shared a simple traveler's meal of potatoes (Kartoflur in Íslenzka) and bread. She had some Austrian salami and I contributed some candy bars named Hraun (means Lava - they're made from chocolate and rice krispies and look like Lava). She spoke English quite well and we shared stores of travels and plans. She is a stewardess for Lufthansa and has been many places around the world and she's only 22 years old! I suggested we go swimming but it was too late - the pool was closed. We exchanged addresses and said goodbye.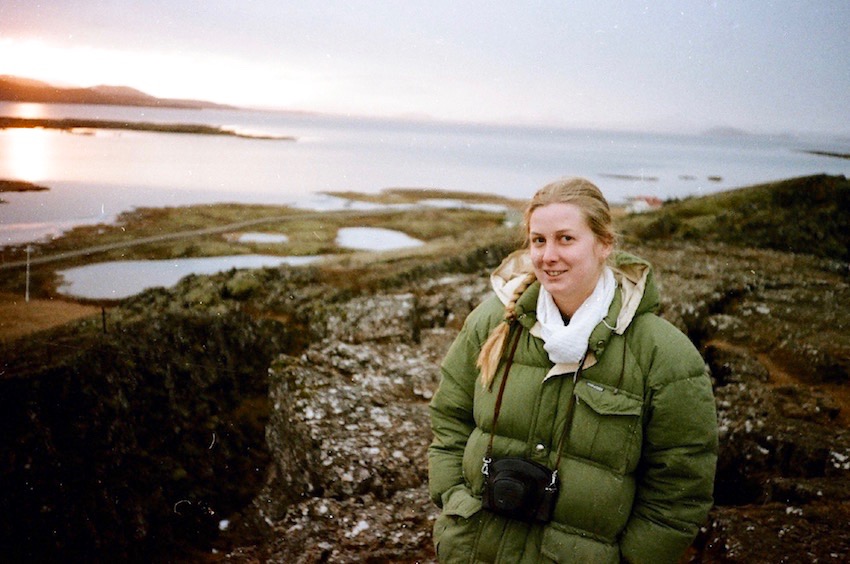 Early Wednesday I took a taxi to the Akureyri airport and flew standby to Reykjavik. Nice flight. The bus trip the other way was icy and a little scary. That night I went to an Icelandic made movie - I could tell it was a comedy because everyone else was laughing.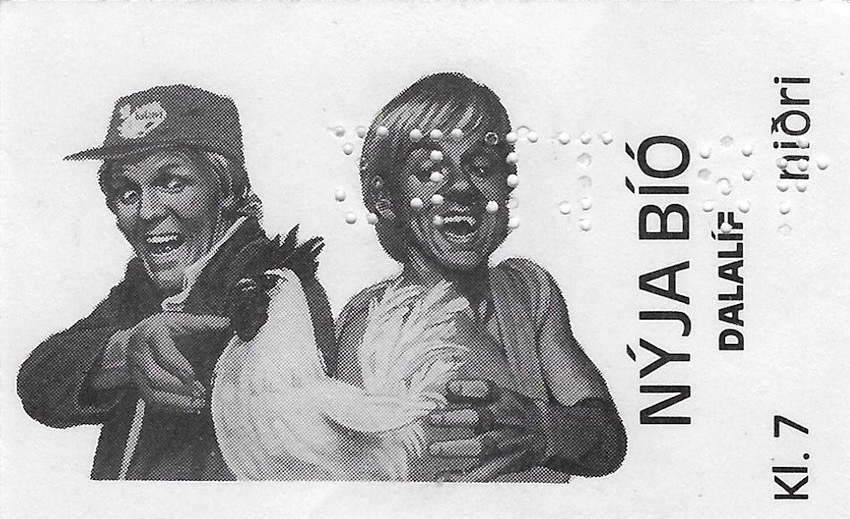 I called Duna. She and Siso were still living with his parents and there was no room for me to stay with them. On Saturday, she said she would like to give me a tour of the countryside. The next day I went to the National Museum and also found out about a modern art show opening on Friday. At the museum was a school class of 10 year olds running everywhere answering questions on some papers their teachers had given them. You would have loved it, Mom. It was on Nov 22 - our Thanksgiving. I thought of you all. The day before I had overeaten at an excellent vegetarian restaurant in downtown Reykjavik.
I returned to the youth hostel to find my friend, Lisa! and a fellow from England named Rod who was in Reykjavik for the weekend. He is working on a dairy farm in Iceland for a few months. We all quickly became friends and decided to take a walk and go swimming and to look to see if the Northern Lights were "shining". When you travel alone it is difficult to not make friends. We all got warmed up soaking in the "hot pots" heated by the natural hot springs and then got cold walking home.
The next day I wrote a long letter to Ernest, drew a postcard for his friend, Lari of the northern lights, and went to give a little computer assistance to a friend of Einar and Kristinn's. That night Lisa and I had dinner at the vegetarian restaurant and went to the opening of this modern art show. Quite interesting. There are some very alive minds here. At the gallery I saw an announcement of a modern music concert on Tuesday the night before I leave - why not?
Saturday, Duna and Siso came to pick Lisa and me up and drove us all around and to Þingvellir (Þ is pronounced th) - a remarkable place where the Vikings Icelanders first set up their parliament and where a big celebration in 1944 June 17 was held when they got their independence from Denmark.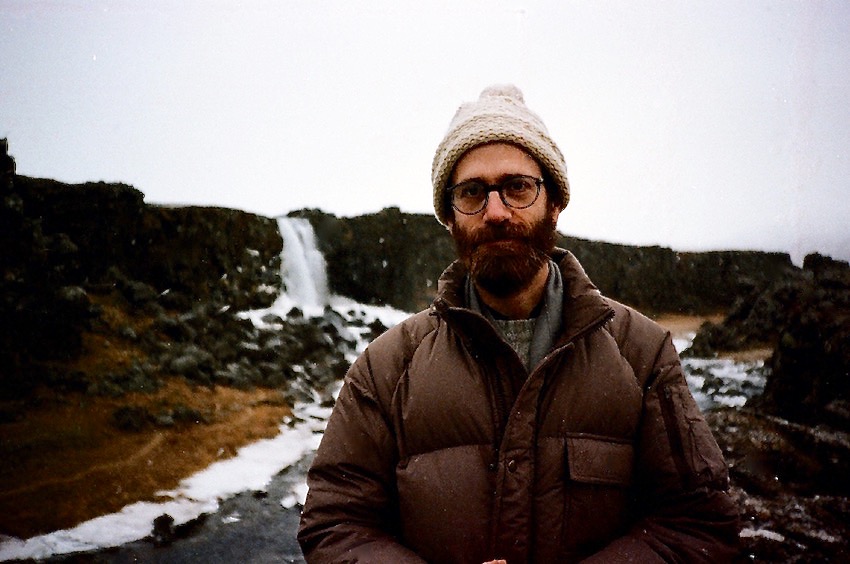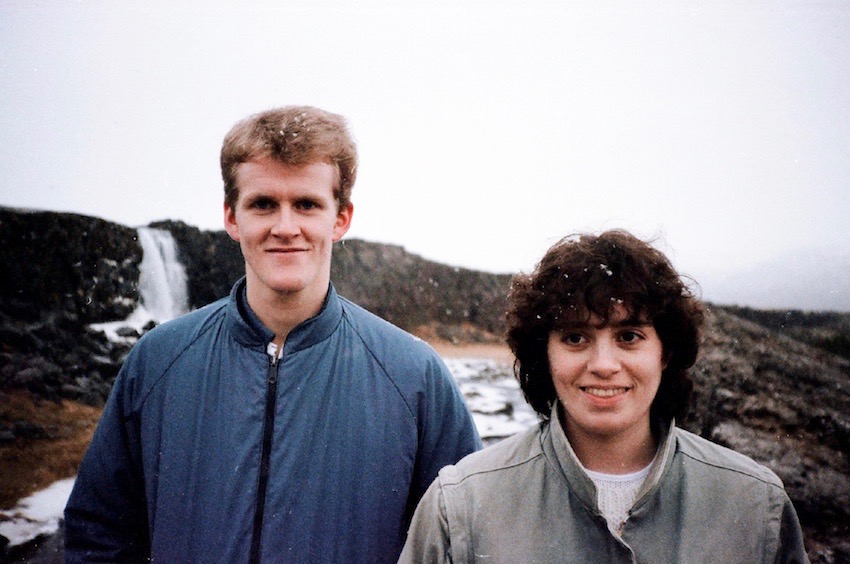 Duna, Siso, and I talked a lot about Georgine, David, Kristi, Joe, Penny, Dan, Matt, Kathy, Don, etc. etc. Tonight I'm going to see a "handball" game. Siso plays on a team. Kind of like soccer.
This morning I went to church at the same place as 2 weeks ago (Hjalti Guðmundsson - pastor - not Sigmundsson as I wrote before). I was listening to the incomprehensible sermon and thinking about writing this letter to you. At that moment I felt your presence. I thought how far from home I am and how you think of me every day. Your love knows nothing about distance and reached my heart. Tears fell.
Jón
---
[[I sent a box of gifts and memorabilia home in a box accompanied by this letter:]]

A list of what's in the box:
card wishing a Merry Christmas
4 postcards volcano, Leif Ericsson, Þor, door
from Kaldakinn - drawing, 2 pictures, names, gravestone, reference to Saga Íslendiga
"The Pioneer Couple" - from Carl Freeman
little map of Iceland
book on Icelandic from Georgine (impossible without help!)
little Icelandic-English dictionary (Icelandic is an

inflected

language. only

root

words appear in dictionary)
Guide to National Museum
pamphlet from Lake Mývatn (different in winter. pamphlets like these always overglorify a place - better for business!)
Bangsi Litli (see images below)
movie ticket
"Baby Bjorn" top of poster and pamphlet
church bulletin
magazine Samúel
comic book Andrés Önd og Félagar
pictures from Saskatchewan, Max, trip to Icelandic countryside with new friends Hank, Ráðhildur, Tumi
negatives from the above
my CA driver's license, B of A versateller card. (Dad, please send my Maximizer account

number

to the Paulsens.
a 10 krónur bill (~30 cents)
undeveloped roll of film of Mývatn, Þingvellir. Please develop it. Less than 36 pictures (~28). Around the 12th picture I doubted my battery in the camera, checked for scratch.
inside film container - 1 króner coin, 50, 10, 5 aurar coins
homework from Einar's biology class
wedding announcement from Einar & Kristinn's daughter
homework from math class
3 sheets for various age school classes visiting the National Museum
News from Iceland
Morgenbla&ethið
picture dictionary
4 hraun candy bars - pronounced heroyne (say fast)
2 Stuðmenn records
2 reflectors. Children and adults all over Iceland attach these to their jackets (on the back) so they can be seen in traffic at night. got them from a bookstore.
an old map of Reykjavik
This is my pre-Christmas Christmas gift to everybody. I tried to find something for everyone. I don't know who should get what. You choose or share.

Even though we can't understand the language, still the life in Iceland comes through. The dictionaries can help decipher some of it and Mom may remember a lot from her childhood.

In many ways Iceland is like the United States. We share the same bodies and minds and desires and basic needs. In bookstores, movies, videotapes, record stores, there is much influence from the U.S. There are differences, though, and it's interesting.

Enjoy!
Love,
Jón
---
[[ I found the children's book

Bangsi Litli

to be a fun way to learn a teensy bit of Icelandic. I distinctly remember Mom (whose first language was Icelandic) reading it out loud and having great fun and giggling and giggling. ]]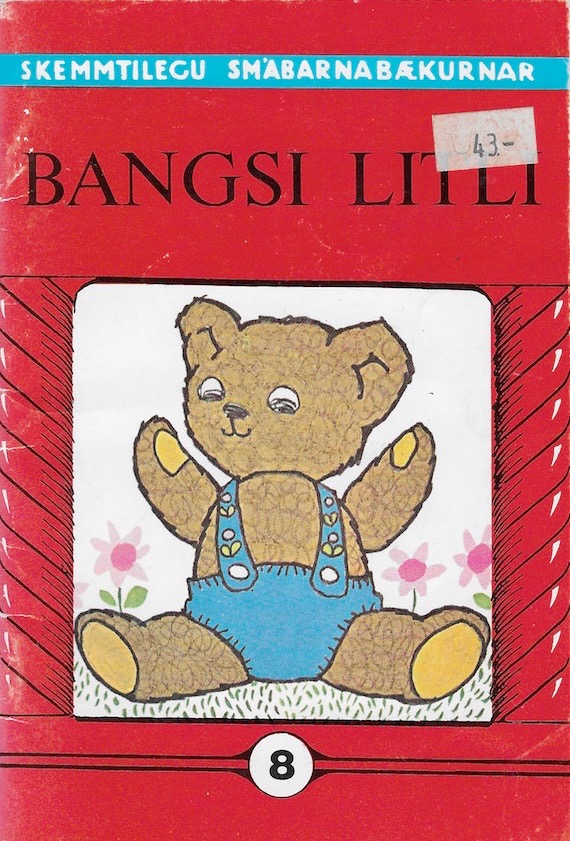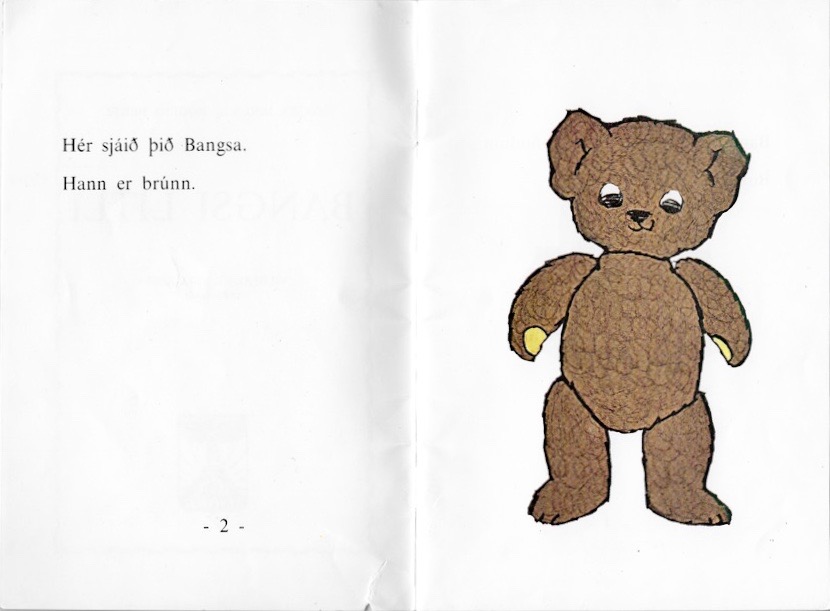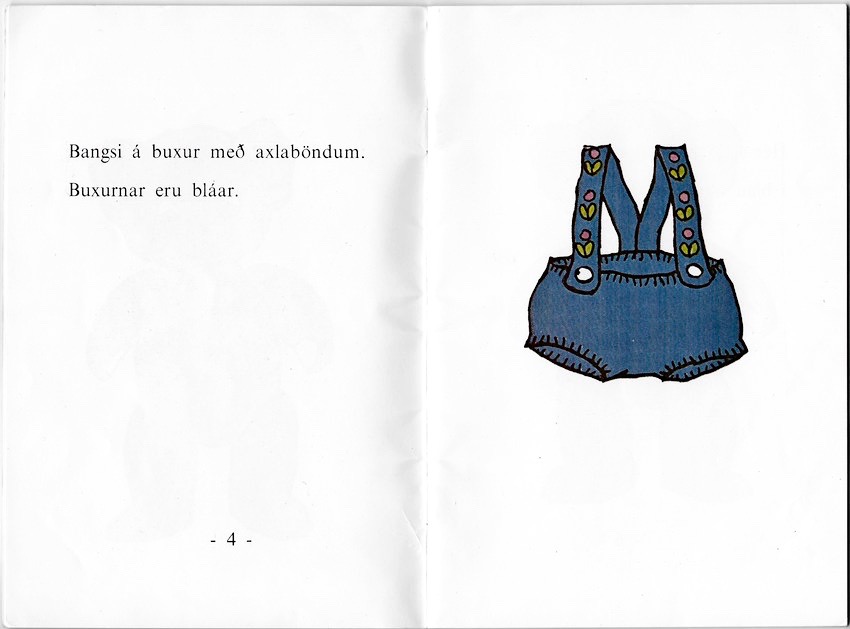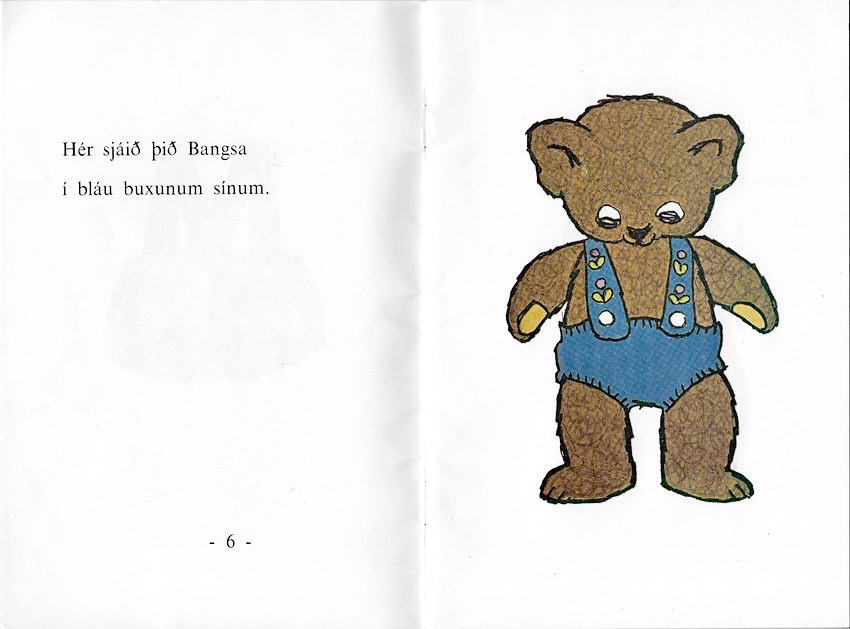 PrevNextTop84-11-25Last Letter from Iceland, Itemization of Christmas box