Prev
Next
Top
85-10-06
*

Letter from Monique after the earthquake in Mexico
[[ On September 17, 1985 a very powerful earthquake happened in Mexico City. It was measured at 8.0 on the Richter scale and caused more than 5,000 deaths. Given my recent two months there I felt a sympathetic bond with Mexico. I sent a generous donation to the Red Cross - something like $300 - perhaps 30% of my net worth! I also sent a letter to Monique and Alberto - the couple I stayed with for a few days in Mexico City after the school in Cuernavaca ended. This is her response.

If you don't read Spanish click here to cycle through Spanish => Spanish and English => English. Any English translation is, of course, not the same as the original Spanish. ]]
Mexico 6.10.85
Querido Jon, Dear Jon,
¡Qué bonita carta! What a beautiful letter! Gracias por tu gran corazon. Thank you for your big heart. Podras quedar tranquilo que no hemos sufrido directamente del temblor. Be assured that we have not suffered directly from the earthquake. Parece que nuestra familia, nuestros amigos no han sufrido mayores daños. It appears that our family and our friends have not suffered great harm. Pués, efectivamente es una tragédia! Still, it truly is a tragedy! Es una experiencia muy especial en cuanto nos hace reflexionar sobre el fondo de la vida. It is a special experience in which we can reflect on the foundation of our lives. ¿Estamos realmente cumpliendo con nuestro cometido? Are we really fulfilling our mission? Nos permite ver con más crueldad la realidad humana. We are allowed to see the very human reality of cruelty. Mientras unos estan sufriendo otras afrovechar. While some are suffering others are taking advantage. Mientras unos son capaces de sacrificio otros son capaces de abusar del prójimo. While some are able to sacrifice others abuse their neighbors. En fin, es cuando más se desatan situaciones extremas en el comfortamiento humano: humildad, egoismo, bondad, compasión, crueldad, etc.... In the end, it is extreme situations that show the very human attributes of humility, egoism, goodwill, compassion, cruelty, etc.... ¡Que difficil ser testigo de toda este teatro y ser participe a la vez! How difficult it is to witness all this drama and be a participant at the same time! Te empiezan a hacer sentimentiento contradictorios: Ganas de ayudar en la medida terible, rebeldía enojo y ganas de no saber nada respecto á la verdadera realidad. We begin to have contradictory feelings: We want to help in the terrible size of the tragedy, but we rebel in anger and want to not know the real truth. (¡ganas de cerrar los ojos y los oídos!) We want to close our eyes and ears!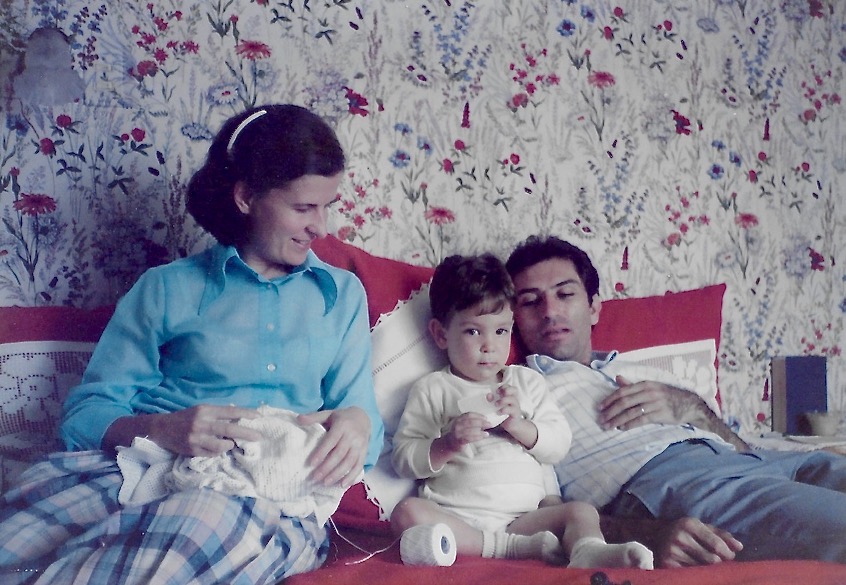 Gracias por las dos fotografias. Estan muy bonitas. Thank you for the photographs. They are very beautiful. Gaël ha empezado la escuela en septiembre y lo hemos inscrito tambien en una escuela de musica. Gaël began school in September and we have enrolled him in a music school as well. Por este lado estamos muy contentos. In this way we are content. Por otro lado nuestra situación financiera va infeorando. On the other hand our financial situation has gotten worse. Alberto no ha encontrado trabajo. Albert has not found work. Las oportunidados que ha tenido, han caído como por magia. Opportunities which he had have disappeared - as if magically. Pero nos queda todavia la esperanza de tiempos mejores. But we keep hoping that better times will come. Pensamos vender un carro para seguir adelante. We're thinking of selling a car to keep going. De mi lado voy a empezar a trabajar con una empresa de consultaria en informática, a ver que pasa. On my side I'm going to start a job with a computer consulting business. We'll see how it goes. Será solamente por unas horas a la semana. It will be just a few hours a week. Seguimos yendo a la yoga lo que más ayuda nos da. We continue to practice yoga to help us. ¡Qué bien que te has obligado a una disciplina rigida! How good it that you have committed to a rigid discipline! Es la única forma de progresar. It's the only way to progress. Vas a ver que eso te va a dar más equilibrio y estabilidad. We'll see if it brings you more balance and peace. Efectivamente lo que se requiere es paz para poder ver con más claridad la realidad de la vida, y para poder enfrentar la sacudidas o pruebas de la vida. Actually what is required is peace for the power to see with more clarity the reality of life and to confront the shakings and tests of life. Vas a ver que vas a encontrar lo que tu quieres.... We'll see if you find what you want....
¡Que bueno que hiciste este largo viaje! How great it was that you took this long trip! Yo siento que te abrió otros horizontes. I feel that you opened other horizons.
Parece que nos va a visitar una muchacha inglesa que esta en UCLA ahorita y planea venir a Mexico. It seems that we will be visited by a english speaking women who is now at UCLA and plans to come to Mexico. Nos escribió para preguntarnos la posibilidad de quedarse en nuestro casa. She wrote us to ask about the possiblity of her staying in our house.
Mexico es ahora una ciudad de desolación pero es una oportunidad de renovación... Mexico is now a city of desolation but it is an opportunity for renewal.
Jon, gracias a ti, y nos da gusto saber que algo te aportamos. Jon, thank you, and it pleases us to know we helped you in some way. Estamos 'aqui' para servir. We are 'here' to serve.
Amistosamente, In friendship,
Monique
PrevNextTop85-10-06* Letter from Monique after the earthquake in Mexico