Prev
Next
Top
85-05-31
Letter from Mom
Fri - May 31
Dear Jon, This letter came for you today in a big envelope that we that we knew we couldn't forward to you - so I opened it - we read it, & now I'll send it on. It must be from Joran's nephew - is he the one you went skiing with. Thought I'd write him a note --- if I get to it --- & tell him to tell his girl friend we'd be happy to have them here.
Tomorrow we go to David Dyer's wedding. Guess Leif is an usher or something. Dad was measured for his tux for Leif's - & Grodins said it would be fine if you came in when you get home. You 3 will all look so good!! I'll buy a dress some day soon -
Georgine call this a m - Kris and Joe had their 2nd little girl last nite - Joann Elizabeth - 7 1/2 lbs - but she has Down's Syndrome. I feel so badly for them - it's a real cross to bear! And certainly a 'test' of their faith.
We all look forward to seeing you again - I'll see if E, J & boys & L & A can come for a homecoming meal July 1st, since you & Jim come the nite of the 30th.
School here is done the 14th - teachers really look forward - we remember how they feel!!
Seems like there's so much going on - Sun is the church picnic - at Bowers Park this yr. The 17th a big group of singers from the Lutheran School in Thousand Oaks start a long tour - we'll have at least 2 for that nite.
Elin is having a shower for Amy the 26th - Amy's matron of honor asked if they could have it together - so she should get lots of nice presents!!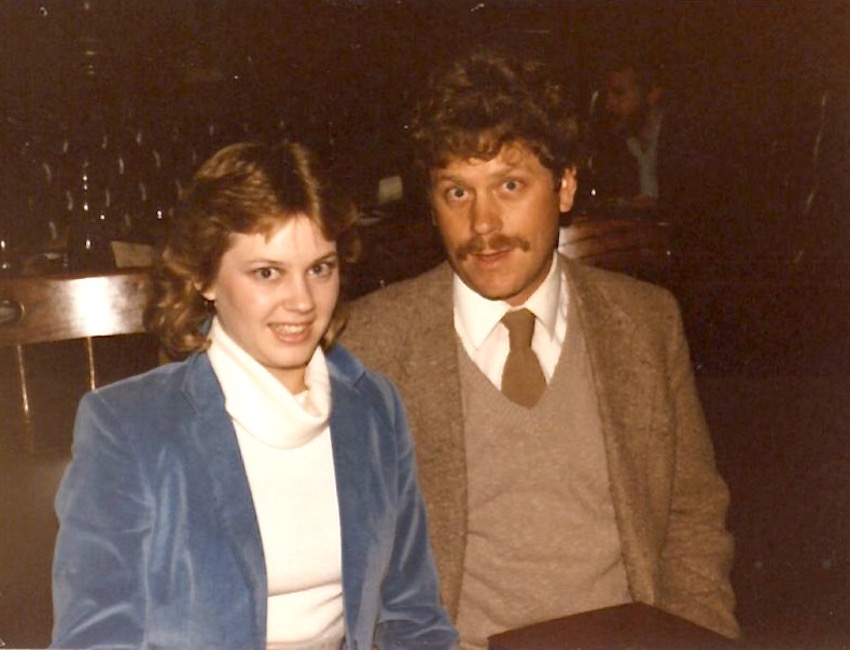 Leif and Amy - before their wedding
We bought a new couch for the family room - Dad is going to paint b/4 we get it. Cal Auguson is going to get the old one (Leif has more than enough old stuff to fill up his house - imagine). Cal will be married Aug 17.
Dad won another beautiful bowling trophy. Garden looks good - he treats it with lots of TLC.
I probably won't write to you again, since it takes mail so long to get there. Hope all is well with you - it is with us. Take care of yourself & come home safely.
Love,
Mom