Prev
Next
Top
85-03-01
Florence, Paris, Meeting Alan in London
March 1, 1985
Friday night
Dear Mom, Dad, and Everyone,
It's been a while since I wrote and my last two letters really didn't give many details of what I've been doing. Sometimes the things I've done aren't important but often they're interesting. Going way back to Firenze here's a scattered list of things I've done:
Went to some art history lectures in English by a funny fellow from New York living in Florence. Played chess with some Italian fellows at the youth hostel and sent them a gift of a chess book from Milano. Took a day trip to Sienna with Lisa and Martha. Lisa I met at the front of a lousy movie named Electric Dreams which we saw together helping each other interpret the dubbed Italian dialogue. Martha is the woman I met at Assisi and met again by chance in a restaurant named Trattoria ZaZa.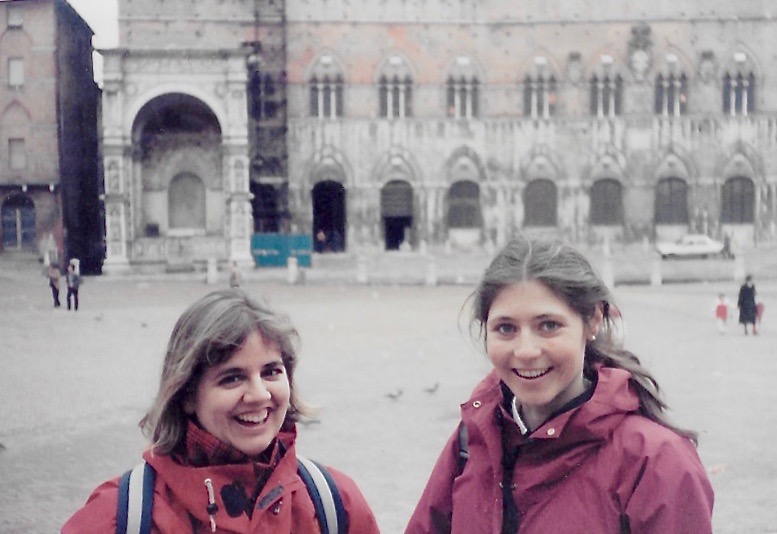 Lisa and Martha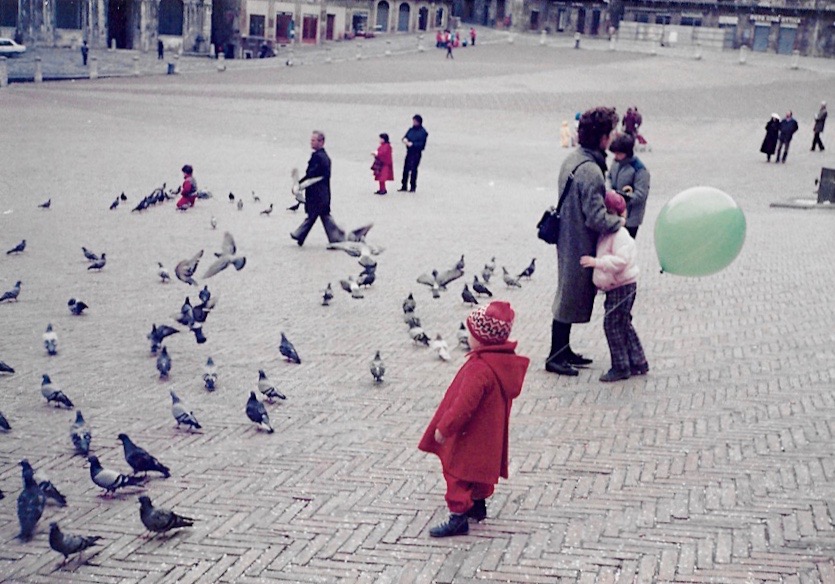 Took a day trip to Pisa to see the tower by myself and after wandering lost for 2 hours arrived too late to go up to the top. It does lean. A lot. In Milan saw The Last Supper of Leonardo DaVinci but it was obscured - (I think I told you this already?). In Paris I went up the Eiffel Tower at sunset, saw the Mona Lisa, encased in a bullet proof window. Whistler's Mother (Arrangement in Grey and Black) was on a floor that was closed. Took the Paris subway everywhere. In the subway there are "street" musicians everywhere some quite good some quite bad. Saw Notre Dame, Arc de Triomphe (sp?), Champs Elysee (a street).
In the hostel/hotel in Paris I met a Brazilian who is a French teacher and who didn't speak much English. Named Ernesto. We had some long conversations in French. He gave me lessons in French interspersed in our talk. I really enjoyed it. I guess I'm not entirely a one-language American. In a square in front of Notre Dame a mime was performing and I got to help with his act.
Went to Chinon, France to see a smaller town and to recover from Paris. At the station I met a young (21) Japanese girl looking for the hostel. She was travelling alone, spoke no French, just a little English, and was struggling with some simple sign language. She needed someone. She had been travelling for 5 days and would meet her mother (no French, little English, too) in 4 days. We shared a meal but she couldn't eat much because of an upset stomach. Poor girl. I thought she had left the next morning but met her again the following morning. I gave her my UNIPIX book of pictures of travelling situations - and she really appreciated it. We travelled together to Amboise where she made a very quick telephone call to Japan to tell her mother to bring her other camera. We were walking towards the chateau (the castle - the main sight in town) when she said "He's Japanese!" I said, "Bon jour." "Are you Japanese?" A young fellow from Japan travelling alone. He, too, spoke little French, little English but they got along fine in Japanese and the next day they went to Chardond (sp) from Blois by rental bicycle (with help from UNIPIX) and I went to Calais.
Took the ferry across the English channel [wait. In Chinon I attended a yoga class in the morning in a meeting/dance room near in the youth hostel. I asked (in French) the instructor if I could join the class. It was fun. "Attention au souffle!" In some of the asanas (postures) I stretched a little too much and strained a muscle in my leg. It's better now.] and during the bus, ship, bus, train trip to London had a very engaging conversation with Graham, a businessman from northern England and Mireille, a French woman on holiday (vacation) in London who teaches English in northern France. Her English was so perfect that both Graham and I thought she was from England. [[I remember she did once say "six month" rather than "six months" - a Frenchism ]].
My first day in London I did my laundry, arranged a hotel for Alan and I, bought another set of wheels to replace my broken one, bought 2 pair of socks, 3 underwear, and a towel. I bought the towel simply because I was getting tired of the one I had. I also went to a kind of health spa to soak in a jacuzzi and sit in a sauna. Took the underground (subway) way out to Heathrow airport to meet Alan. His plane was 2 hours late and I was 1 hour early. He delivered my letters from you all (Thanks!) and cookies from Mom. It was good to see him. Home. Someone from Home.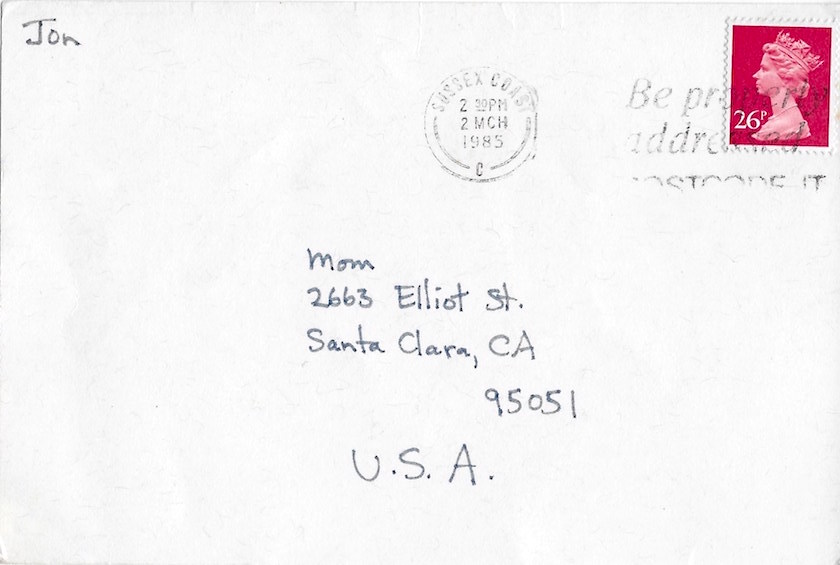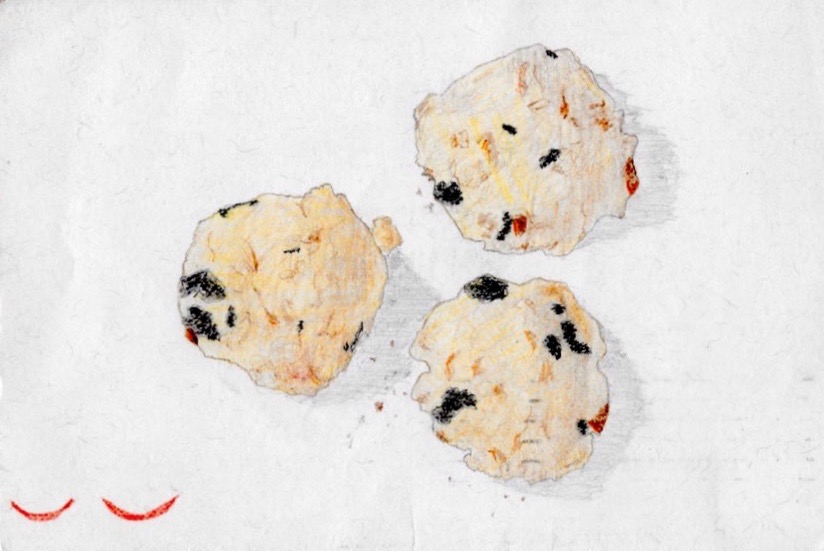 After recovering from jet lag and lack of sleep we saw London in earnest. 3 plays:
Mousetrap

- an Agatha Christie mystery that has been playing for 32 years.

Cats

- expensive, flashy, big spectacular musical.

The Beloved

- a one woman show of modern experimental theatre. theater. We knew something was different when we entered and saw the actress in the middle of the stage apparently sleeping on a robe waiting for the starting time. The first 5 minutes she spoke no words but did a lot of breathing and walking in shiny men's black patent leather shoes. Her show was the least expensive but by far the most engaging.

[[ The performer was Rose English who is still quite active. ]]
2 museums, a fine vegetarian restaurant run by a group of Seventh Day Adventists. Arranged a flight to Cairo and Mexico near where there is a Spanish language school. Will travel to Israel by bus from Egypt. Visited some of Alan's family friends near London and visited Tumi, Ráðhildur, and their son, Elliði - Icelanders I met in Iceland living in Forest Row now.

There. A chock-o-block full letter.
Another letter soon to get back on schedule.


Love,
Jon