Prev
Next
Top
85-02-18
Letter from Mom

Mon. AM 2-18
Dear Jon,
Dad is bowling. School is off for Feb. break. So, today is the day I chat for a long time with you. Then I'll get this all in the mail to Alan's, so he can deliver it to you. I mailed some cookies, & they should get there tomorrow.
What does it mean, on the back of the envelope mailed from Bergen? MC&HNY (I get that) - but TYTD?? We're giving Ruth the stamps from your letters - she is collecting them. I'm sending on this info from Health Care Abroad. You've also received a bill, etc - from Blue Shield - I called and said you'd gotten other health care, so I'm ignoring the bill. Is that correct? Let me know.
Dad went to the bank and was told you'd lose more money on interest in your big account to take the money from there to bring up the others so there would be no service charge so they remain as they were. We had your pictures developed - $34, or so, but that was using a 1/2 price coupon. Some are too dark. Some interesting, but we don't know where they are from - but we guess. Pics of Rolf and Joren are good. I'm sending some pics for you to see - you may return them - I just thought you'd like to see them. The one of you and Karla she sent for you - we've had it on the frig. Leif, Amy and her parents, Linda and Marvin Schultz. The others are from our Hawaii cruise. The one - Dad is going off ship to call a cab for golf. Others - he was on an "Olympic" team. Cute, huh?
I think I should start back b4 Christmas and fill you in on what's been going on. Leif and Amy came to help decorate the tree - the Vandi Groenken boys came to put up the outside lights so our house looked festive and nice. The boys cleaned all the eaves while they were up there, too! For my birthday I chose to go out to lunch rather than dinner so we went to the Brave Bull where I had their special crab sandwich, etc. - one of my favorite meals. Of course, I cooked lutefisk for Christmas Eve & Dad helped me make lefse. And I made two vinatertas, too, perhaps as good as yours. Amy, Leif, and I had some specially good lamb chops - NOT pizza.
Christmas morning we went to Elin & Joe's and had a wonderful day with them. Needless to say, we missed you! Bjorn and Jon were here for New Year's Eve. Augusons had a party, so we all went there - was fun. It was a party for all ages - ranging from Jon at 7, to the 86 year old father of one of Augason's friends. B & J were having such fun - they wouldn't leave! Dad came home & went to bed around 11 - but the darn kids & I were there till close to 1. So they were up to greet the New Year.
Our anniversary trip was wonderful - memorable!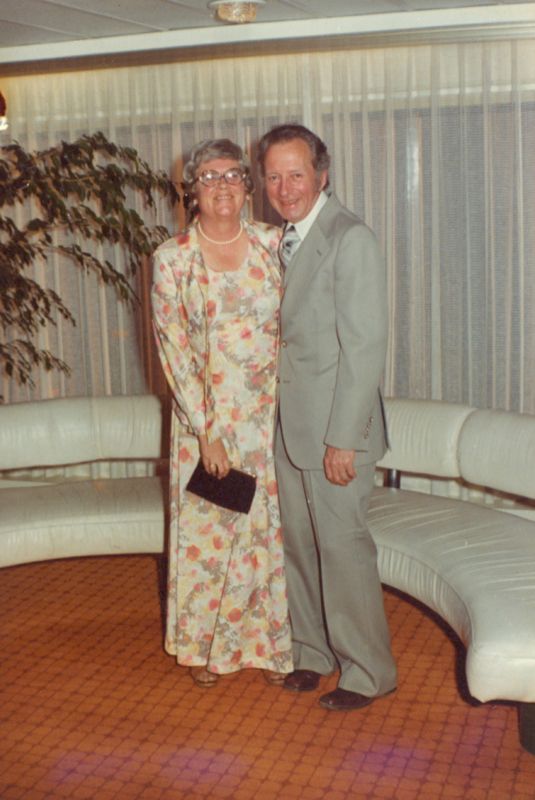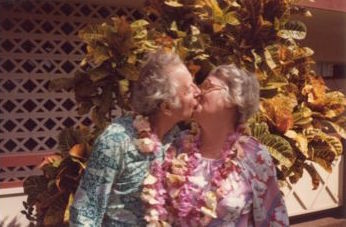 To get us "in the spirit", Mike & Dorothy had a special anniv. dinner for us, & invited our other "dinner group" friends. They all gave us presents - both funny and nice. The next a.m., Cal Auguson took us to the airport in S.F. - Leif was going to - but, of course, wasn't still feeling well. Al Rauschuber came to the departure gate to bid us good-bye (we flew on United). Good flight. The movie was a good one we hadn't seen, so Dad got out $'s to pay for the headsets, & the flight attendant said it had been taken care of. B/4 lunch, we ordered a drink - & couldn't pay for that. They kept asking if we didn't want something else - more drinks, after dinner liqueurs, etc., etc., and we refused all. Then they brought a bottle of chilled champagne - asked if we didn't want it then - they'd bring glasses - but it's now in our kitchen waiting for a special occasion - also a card from Ellen and Al R. wishing us a happy 40th. And as we left, they gave us a whole bunch (15-20) of United pkgs of Macadamia nuts. Pretty nice, huh? We were met in Honolulu by the ship's reps & taken by limo to the ship. Our luggage was in our stateroom. And a cruise is such fun. People to meet, so many ship activities, etc. Food - all the time - one could eat 6-9 times a day!! Gorgeous fresh fruits, vegetables, gourmet entrees - anything one would want. I gained no weight, for I was careful. Guess Dad gained 4-5 pounds. We were invited to the captain's very special cocktail party for only a few on our anniv. nite.
Dad golfed in Maui and Kauai - we rented a car on the Hilo side of the big island & drove to the Kilama Crater - huge - still smoking - it had erupted the 4th of Jan. Also went to the orchid garden - saw thousands of different orchids & antheriums there. And we stopped at the Mauna Loa Macadamia nut factory - interesting. On Kauai we rented a car and spent the day just driving - seeing lush spots - gorgeous beaches, etc. etc. We got home Sat. nite - Cal & Kathy (his fiancee) were there to meet us.
Then home and back to regular things. We'd only been gone a week, but it was long enough for us both. We're enjoying life and the "schedule" we've set for ourselves. Volunteering at school brings no financial rewards, but rewards greater than money, in smiles, simple thank yous, and a feeling of time well-spent. Life is good. We've both been to the Dr. recently for regular checkups and all is well. Dr. Skoulas said my heart seems better than a couple of years ago - my b.p. is ok - weight fine - and I generally have a feeling of well-being. I do need to "listen to my body" - not do too much, & get enough rest - but that seems to be taking care of things. Your dad is well, also - of course not overweight, b.p. fine without medication, & I don't think any of us need to worry that he'll become a drinker again. I'm so very thankful for that!!! His life is full - I know he's written you some already & says he'll add a bit more. I'm going to get broccoli, carrots, & green onions from the garden for dinner tonite. Still have a few fresh tomatoes. Avocados are about ready to use - I've used a few, but they take 2-3 weeks inside to ripen. Oranges sweet and delicious. His book from E & J at Christmas on square foot gardening has become his "bible". The weather is gorgeous these last 2 weeks, he's itching to get more plants in!! Compost is all ready - lots of it - & full of worms. Yuk. Camellias in profuse bloom. Narcissus & daffodils in front.
The surface mail pkg from you has not yet arrived. Was fun to get the pkg from Norway. Joran and Rolf sent gorgeous brochures from there, & a calendar with pretty scenes, and recipes in Norwegian. Wish I could read them. Are the rubber scraper & brush for our kitchen or yours? We've not used them. The Raphael's Transfiguration is beautiful. We read about it - & about him in the encyclopedia. I think we'll just look at it, & not try to hang it up.
We've really looked at encyclopedias - to see maps, & read about where you've been. Your letters are so wonderful. Thanks, dear. It sounds like you've had a great time - seen so much, & met so many interesting people. Unforgettable! Your last couple of letters sound as if you've seen and done so much - you may be becoming saturated. You don't have to do it all now - you can come home, & do it again another time, you know! I know you and Alan will have fun travelling together - he's really looking forward to it as much as you, I think. I talked to him, & he was so busy getting things ready to leave for a month. I tried to copy your letters at school for him & the machine didn't work, so I mailed the letters and asked that he return them before he leaves. I hope he does, for Jim is coming 2 weeks from last Sat to see them, & I told him I could cook up a good meal for him. We'll enjoy having him & seeing him again. Talked to Karen, and don't know if they'll be coming here - or if I should just send them the letters to share them, after Jim's been here. We'll see.
I asked Dad to find the last statement from your large accout - guess we'll just include that with all this other stuff. Thought you may like to see how your financial status is. Appears you have all you need to do whatever you want. Quito, Ecuador sounds interesting and I agree, what a good thing if more Americans weren't so narrow to know only English!! I'm glad if you decide against India & that part of our world - as you said, especially in this season - and during these troubled times. We do want you home safely!!
I know Elin and her family are writing you - & Leif, too. So I won't tell you much news about them. Leif has had a long siege and we've been worried about him, but he's back at work (not full time yet) & is so much better. He and Amy are so happy - and excited about all their plans. Amy has finally found and ordered a dress her Mom likes, too - wedding July 13 at our church - they've had several meetings with the pastor, I guess. Reception at Mariani's, Honeymoon in Hawaii, etc. etc. We went with them to look at the house the day after we got back - I think they'll be so happy there. They took us out to dinner for our anniversary just this last Sat. A nice evening!
MaryC had emergency surgery middle of Jan in Bismark for a detached retina. She's doing really pretty well, Freeman says - is back at work just part time. Can't drive, so Freeman says he's the taxi. Weather there has been really cold - 20-30 below - wind chill factors -70° or more. Harriet writes no special news - guess she's doing a lot of things with Clarine Leon - (Glenn died in Aug). They're old friends from when Glenn was Supt. in Mountain. Really good for both Clarine and H.!!
Sally & I are going to lunch tomorrow. Mary Ann is being married July 20 to Bob Turner - they've been seeing each other since a few months after Guy died, & knew each other many years b4. Bob works at ILC where Guy was. Mary Ann is doing well with the chemo & radiation - Dr's have high hopes they've conquered it!!
I'm going to the library tomorrow to renew my reading material. I just read a true story Never Cry Wolf by Farley Mowatt - about while he was in Alaska or the far north studing arctic wolves, etc. Really well done and interesting. I re-read Rolvaag's Giants in the Earth and another short one about Norwegian immigrants in S. Dakota - The Third Life of Per Smavak. I even got Dad to read that one. I'm going to ask tomorrow about another by him - Peder Victorius which is in the card catalog but hasn't been in the stacks the last few times I looked.
I'm also trying to get the laundry done, & really must go see to that. I've been writing my rambles for quite a while. I'll probably think of something else I want to say b/4 I mail this in the A.M. Postage is up to 22¢ a letter now! I remember when it was 3¢! --- I didn't send all the cookies - I enjoyed a couple with my morning coffee. I hope you and Alan do - they should be good & nutritious with a jug of milk or a "spot" of tea. I wish I had put a can of macadamia nuts in the pkg - we bought a bunch. Maybe I'll find something to wrap it in & send that in the AM, too.
One of your B of A Visa bills had a Bal-Ans chair charged on it - did you give it away, or have it sent to you? I've seen them at Mobilia - they look funny, but I heard they're really good for you to sit on!
Just thought - do you want Dad to apply for an extension on your income tax? I'm sure you don't need to pay - but I know you need to file, & it would be better not to have to pay a penalty.
7:30 PM - Norman just called. He & Karen are also sending letters to you tomorrow. Alan will be quite the mail carrier! Norman said he thought he'd call Jim, & they'd try to come here to visit on the same day. It will be fun to have them. Norman insisted that they bring something for the meal, so they'll bring dessert. They're all looking forward to reading your letters. I'm so glad we saved them. [[ me too! ]]
I guess this must be enough - can't think of much else to write.
You two have a good time, & happy travels. Stay well. Take care. You are very special to me.
Much love,
Mom