Prev
Next
Top
85-02-11
Letter to Norman and Karen from Italy
Feb 11, 1985
Norman and Karen,
I just had some photos developed (bouncy train) and there were two that I thought you would enjoy seeing. They're from the Vigeland park in Oslo - the one you told me about, Karen. You shared the big book of photos when you both came for the "going away" party.
It was very cold the day I took those pictures. May -15° C. My feet got cold more than anything else. I'm pleased with these two pictures; especially the boy skiing.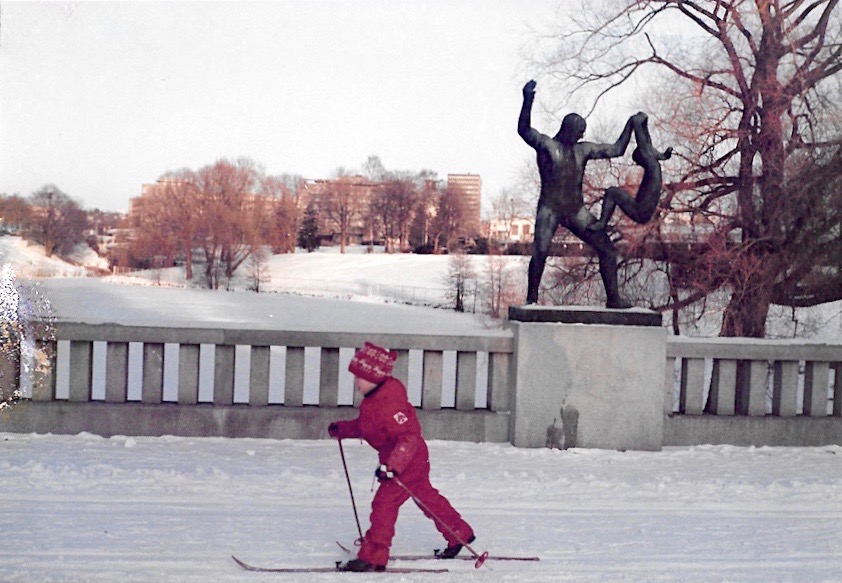 I was in Oslo more than a month ago. Since then here's a list of places I've been:
W. Germany - Hamburg, W. Berlin, (& E. Berlin), Goslar, Göttingen, Bonn, Köln, Wiesbaden

Holland - Amsterdam (great modern art)

Austria - Vienna (lots of music)

Italy - Rome (lots of cars), Assisi (St. Francis), Perugia, Florence (lots of religious art), Sienna, and I'm my way to Milan.
and then France.

Have my parents invited you to come and read all of my letters yet? I told them to do so. Reading them is the best way for you to know what I've been up to. I can't write everything to everybody (bouncy train). Some day take a little trip to Santa Clara. I'm sure you'd be fed well.

We're in Bologna. I can tell because there are 4 signs outside the window (Italians are rather inefficient). A man is sitting reading National Geographic with a suitcase on wheels beside him. The fellow across from me is some kind of accountant as he's punching a small calculator and writing lots of numbers in columns. He's French. I heard him say, "Oui, c'est moi" to a customs official asking about a briefcase. First time I've encountered someone from France. (No. There was a young girl in Luxembourg.)

When I return (end of June?) I will look forward to asking you about your European trip, Karen. How's life at home? What's it like to stay in one place for more than a week? How's school? How's job? How are you two?

Take care,
Jon