Prev
Next
Top
85-02-06
Rome and Assisi
Monday Night, February 6, 1985
Dear Mom and Dad and Everyone,
I spoke with you on Saturday (7:30 your time) and was glad to hear your voices. Sorry to hear that Royce is not improving. It may be his time to die. Maybe not. I was (we all were) sure that Dad was going to die 2-3 years ago but he's still kicking. Sooner or later our time will come. I hope you see him in the hospital regularily.
What's wrong with Leif? Dizzy? Balance? In his letter to me at Christmas he told me about it and thought it an after effect from a severe cold. Maybe it's something else. So your internal stabilization feeback control is out of kilter, eh? Need a tune up? Replace a few parts? Kinda scary. I hope it levels out soon. Take care. Be well.
Glad to hear you celebrated your 40th anniversary in style. Hawaii. Mom let you golf, eh, Dad? 40 years. A long time.
I had a lousy time in Rome. My memory of the Vatican, the great beauties there (and great wealth), the restful squares and fountains, the ancient ruins - all these fine things were spoiled by the tremendous numbers of people, noise, dirt, a general disorganization and little cars everywhere trying to run over you. The hostel in Rome was closed and the one on the outskirts was not recommended. When I arrived I had spent the night on the train and so to get a good night's sleep I decided to check into a hotel that was recommended in my Let's Go Europe guidebook. Cheap (~$7.00 showers $1.00) but cold, dingy, and my room was on the 5th floor no elevator. I considered not staying in the hotel or staying just one night but the first night I was wacked from travelling overnight on the train and the succeeding nights I was wacked by the city. I had some trouble getting proper food, few people spoke English (although some are very practiced at sign language) and it took me a while to figure out the bus, subway. All this might have been tolerable if I had had some company but hotels (unlike hostels) aren't very good places to meet others. I tried to "do when in Rome as the Romans do" but it took me a while to figure out what they do.
Italy has had tremendous inflation for many years. A bus ride costs 400 lire, cheap hotels 14,000-20,000, and a dinner 8,000 to 10,000. One fellow from England I met put it succinctly: "They should knock two or three naughts off." That's what Iceland did 3 or 4 years ago.
Enough of Italy's Rome's problems. (They should import 2 or 3 Germans to straighten it all out). Italy is a storehouse of the world's greatest religious art. Unlike Protestant churches, Catholic cathedrals are tremendously ornate and decorated and painted full of Biblical parables and scenes. The Vatican museum is beautiful and wealthy and magnificent beyond imagination. Way beyond imagination. The Sistine Chapel, St. Peter's Basilica, Michael Angelo - his divine "Pieta", Raphael's "Transfiguration". I really didn't know much about these things before coming but I can understand why they are so revered. I bought a print of the "Transfiguration" and sent it home. You might hang it up somewhere (don't put pin or tack holes in it nor tape tears) and look at it and maybe read something about it at the library. I also bought some books that I'm sending home in a slower, cheaper way. I still have in my mind the ideas of Emerson that I quoted to you in the last letter. These great works of art are very reflective mirrors and very eloquent reminders of what we already have. For some reason we keep forgetting.
I spent 2 days in Assisi where St. Francis began the order of Franciscan monks. He read Christ's words: "To come to the Kingdom of God you must give up everything you own, you must become the children of God and not have any allegiance to your earthly families." (or something like that). Francis had the great simplicity to say, "Okay. Yes, Sir." He preached poverty, simplicity, universal love. The town of Assisi is beautiful - built of pink limestone on a hill. It is ancient (St. Francis lived around 1200) and has a real sense of history about it. Narrow cobblestone streets, misty panoramic views of farms in the plain below, castles, churches, lovely scenes around every corner. The Basilica (cathedral?) of St. Francis has been decorated far beyond what St. Francis would have preferred. The tourist business is very active.
At the hotel I met a young woman, Martha, from Hollister who had studied architecture and worked in London. We hiked up to the Eremo Carceri - the Hermitage of St. Francis - a Franciscan monastery. Francis would like to approve still, I think. Simple, quiet, pure, poor, calm.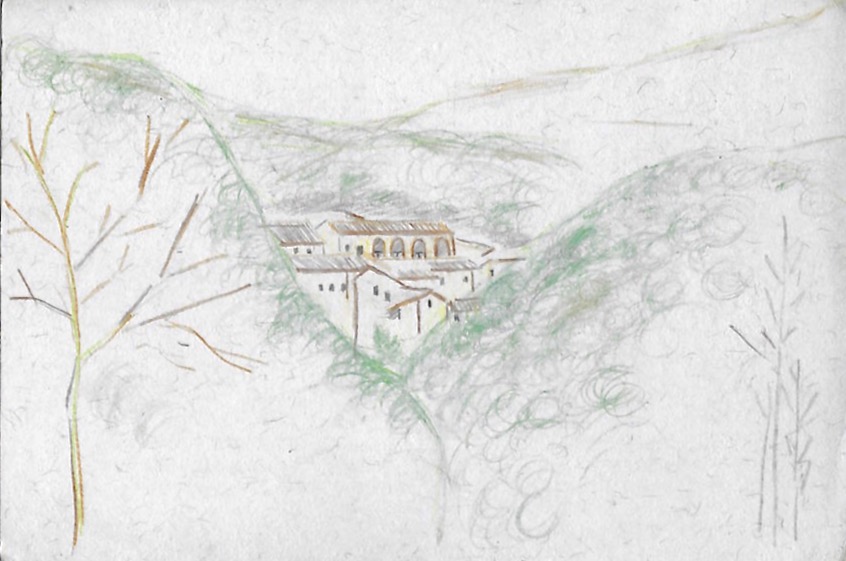 The next morning we went to San Damiano - a convent begun by St. Clare, Francis' contemporary. Again, a lovely place. Unlike most of the people I've exchanged addresses with on my way, I may see Martha again. I'm collecting quite a list of names of new friends. It's as important to me as the list of beautiful paintings I've seen.
I'm now in Florence. Today is a getting organized day. Laundry, letters, postcards, journal, cleaning, repacking, tossing things I don't use, fixing buttons and tears.
Alan Nerenberg is coming to London Feb. 24 and we will travel together somewhere. Not sure yet. It will be good to see someone from home. He may stop by to read my letters, pick up anything you want to send.
Well, I'm running out of interesting things to say.
Take care everybody,
Jon