Prev
Next
Top
85-01-06
New Year's Eve in Bergen, Oslo with Thomas, Hamburg, W. Germany
January 6 1985
Dear Mom and Dad and Everyone,
Nothing too exciting happened this week. I am now in Oslo staying with Thomas Martinsen - a friend of the Paulsens. Last Sunday I stayed in the apartment of Jørgen Holme, a young fellow I met at Finse. I told him I was going to Bergen to spend two nights before returning to Kongsberg. He drew me a nice map, gave me some advice. I got his address and the address of his friend, Grethe, and said goodbye to my new friends. You sure make and lose friends quickly when travelling. I went to have dinner with Olav (Jøren's nephew) and Elaine. Jørgen came a little while later and said, "Why don't you stay at my place when you're in Bergen?" So I got his key and directions. Very nice. Very trusting. For two nights I got to pretend that I had a home. I spent New Year's Eve quietly, comfortably, peacefully alone. They set off fireworks here. In Bergen on New Year's Eve day almost everything was closed. I took a special kind of steep angle trolley to the top of a hill overlooking Bergen and walked down through a park. I walked over to the aquarium and happily found it open. Almost no one was there. I got to help feed the seals and penguins! Before I threw the little herring to the seals I said, "Er du sulten?" They swallow them whole. As do the penguins.
January 9
It's now Wednesday. I've been running around. I aim to mail this letter today so will just let my thoughts flow scattered. I enjoyed speaking with you both on January 3. When we spoke on the day before Christmas eve it was too short too rushed in some way. You sounded just like I remember you. And I hope I did, too. I'm now in Hamburg, W. Germany. My plans are to rest up a while here (my throat is a little scratchy) in the youth hostel, writing in my journal and letters, then to go to West Berlin on the late train and check into a cheap hotel. I and my body need a good rest so I will assert my wealth and not stay in the cheapest of places - the youth hostel. The temperature here was -10°C yesterday and now it is snowing. I was told that it was -26°C in Munich yesterday. Good Lord! It was warmer in Iceland and Norway inside the Arctic Circle. Time to stay warm. I keep telling myself that I didn't come for the weather but I don't know. Thomas Martinsen, the fellow I stayed with in Oslo, said, "There is no such thing as bad weather, only bad clothes." My clothes are pretty good and I just improved my boots yesterday by buying a woolen inner sole liner for them. Friday morning I'm going to meet Chris and John (two Americans who speak German) at the East German border. I met them here in Hamburg and we arranged to meet at "Checkpoint Charlie" to spend the day together in East Germany. It will be good to have company while in that strange land. Communism! Fear! I hope to learn a lot.
My two days after Finse with Rolf and Jøren were quite pleasant. They were sorry to see me go. They were afraid they hadn't done enough for me; I assured them that they certainly had done plenty. One image I have is that in the short space of two weeks they had a child which they couldn't have themselves. I may never see them again. Two weeks to experience "birth", love, attachment, growth, separation, "death" - all the stages in a child-parent relationship. In only two weeks. It was hard for them. There were tears in Rolf's eyes as we said and hugged goodbye.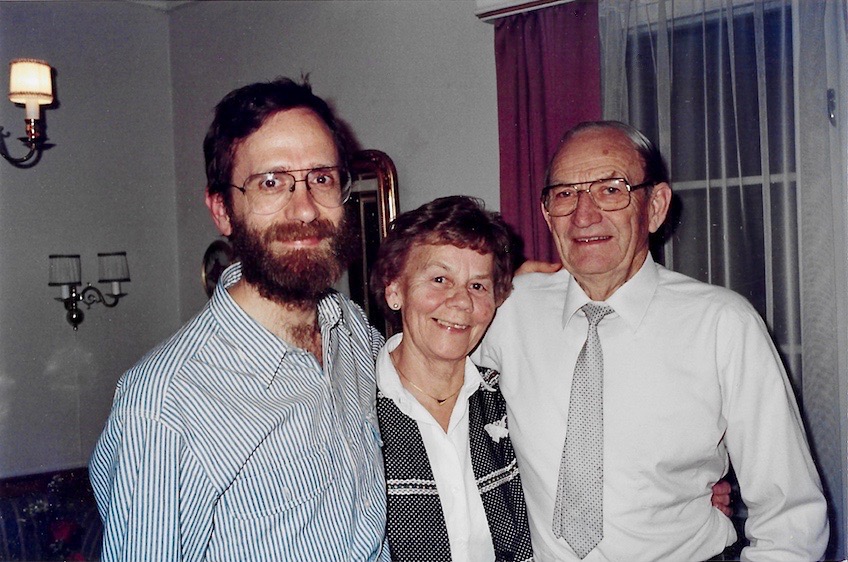 On the 16th I will go to visit Lisa, the woman I met in Iceland. She lives in Wiesbaden in the south and I look forward to spending a few days with her. Friends everywhere.
I tried to think of an address where you could write to me. I will meet Alan Nerenberg in London on Feb 24 and it's probably simplest for you to send letters to him:
Jon Bjornstad
c/o Alan Nerenberg
6678 N. Roosevelt
Fresno, CA 93704

I will call you sometime around the first of February to say hello. Cards and letters from home with the simplest of news mean so much to a far away traveller.

Now a letter to Rolf and Jøren.

Take care,
Jon

PrevNextTop85-01-06New Year's Eve in Bergen, Oslo with Thomas, Hamburg, W. Germany