Prev
Next
Top
85-01-03
Itemization of Box from Norway
3 January 1985 (first time I wrote the new year!)
Dear Everyone,
Here's a box of stuff from Norway - My post-Christmas Christmas gifts
White brush - They wash and rinse dishes differently in Iceland and Norway. Jøren uses one just like this.
Rubber scraper - a slikkepott (pot licker) I gave one just like it to Jøren for Christmas. She needed it. It's made in Norway.

Now every time the Paulsens or the Bjornstads rinse dishes or lick pots they can think of each other!

Tourist brochures about Oslo [oose low], Kongsberg, Numedal, Finse, Norway. Remember that the purpose of these brochures is to exaggerate a place's virtues and to ignore its deficiencies so as to make it appear a paradise where

tourists

everyone

just

has

to go, where they will forget all their problems, where they will have the time of their lives and spend

as much money as possible

.
A Norwegian flag. A gift from Rolf to me for Christmas. Jøren gave me some socks she knit and which I'm wearing right now.
A thermometer in Centigrade only - so you can begin to use and get used to the metric system.
A yellow folding meter stick - A green 30 cm ruler - This I bought in Å and is for

me

. The words mean "Earth, Air, Water. Protect our Resources."
Several things I include so they will be home safe. And so I don't have to lug them around. In Stockholm I bought some wheels to strap onto my pack and it is/they are wonderful. Remember that off balance picture you took of me before I left? I haven't worn my pack on my back for about a month. The wheel is a good invention!

And from Jøren and Rolf:
A jar of bringebær jam. Jøren picked the berries wild in the nearby hills and made the jam. Our name for it is raspberries. They have many many berries - jordbær (strawberries), blåbær (blueberries), moltebær (cloud berries), and bjørnebær (black berries - not bear berries!), plus others. All delicious. [[ see postcard of moltebaer below ]]
A calendar from Rollag, a nearby community to Numedal Valley. See the Berlitz guide page 181, 182 for the day, month names.
God Jul og Godt Nyttår!
[goo yule oa goat neat ore]
Merry Christmas and Happy New Year,
Jon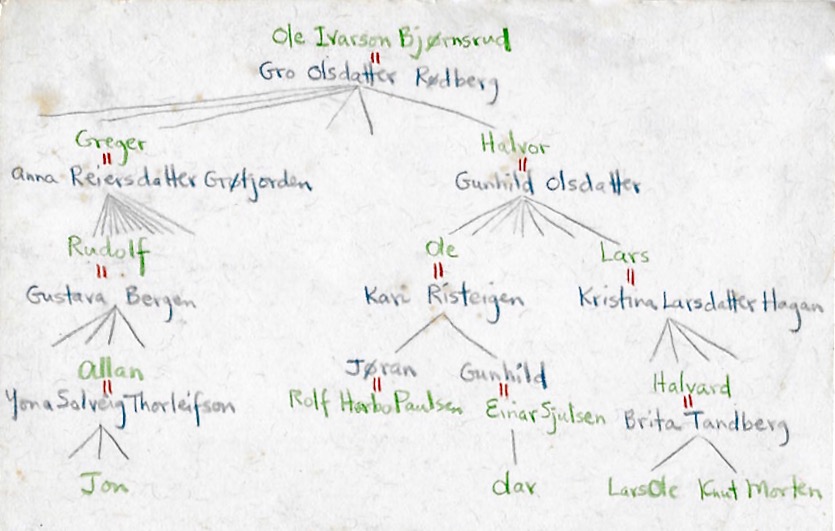 Jon, Olav, Lars Ole, Knut Morten - 3rd cousins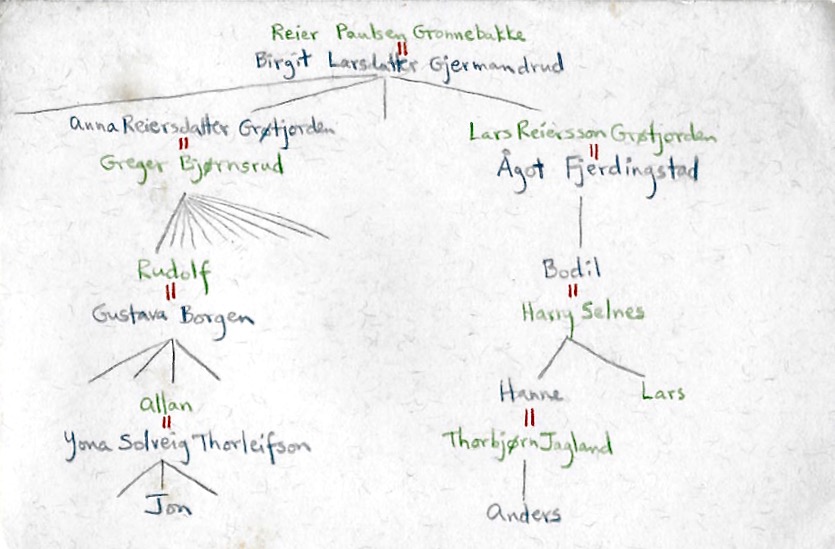 Bodil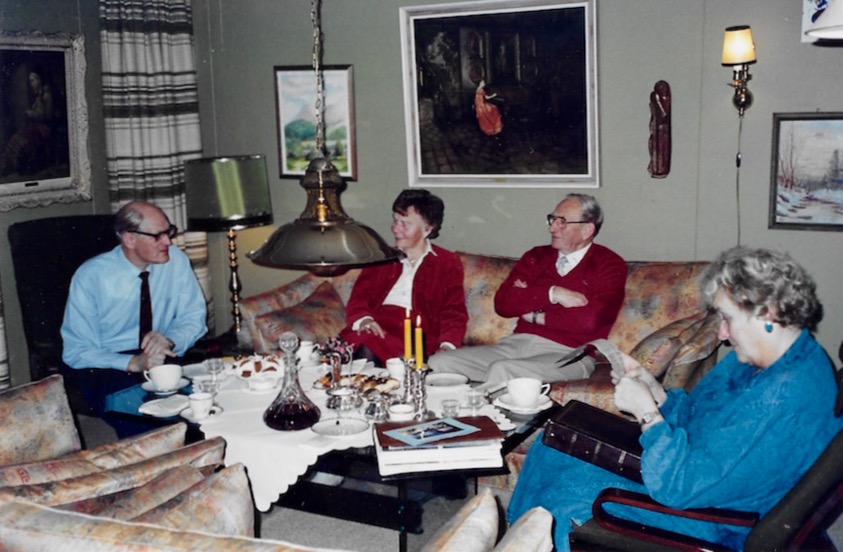 Harry, Jøren, Rolf, Bodil