Prev
Next
Top
84-12-30
Christmas in Norway, Skiing in Finse
30.12.84 Sunday
Dear Mom and Dad and Everyone,
I am at Finse. It is between Oslo and Bergen on the railroad - inaccessible by car. It is the highest (1222 meters) point on the rail line. I was invited here by Olav Sjulsen [OOlAv Shulsen], Jøren's nephew. He and his girlfriend, Eileen, are vacationing here through New Year's day. We came Friday afternoon and the weather for cross country skiing was perfect on Saturday. Clear sky, dry air, about 5 cm of dry snow, and the temperature minus 18°C. Let's see 9/5(-18)+32 ~= 0°F. It was cold but it didn't feel cold. I knew it was cold because of the ice in my beard. I borrowed boots, poles, skis from Olav, socks and pants from Rolf. The route we took is marked on the enclosed map which was also a placemat. It was about right for me. Actually, maybe a little beyond my limit. We were out about 4 or 5 hours. I was the slowest one in the whole party. Towards the end I kept falling down and slipping and that slowed me down. It was exhilarating, exhausting, exciting. The mountain scenes of snow forever were fantastic. I took several pictures. My knees will recover in a few weeks.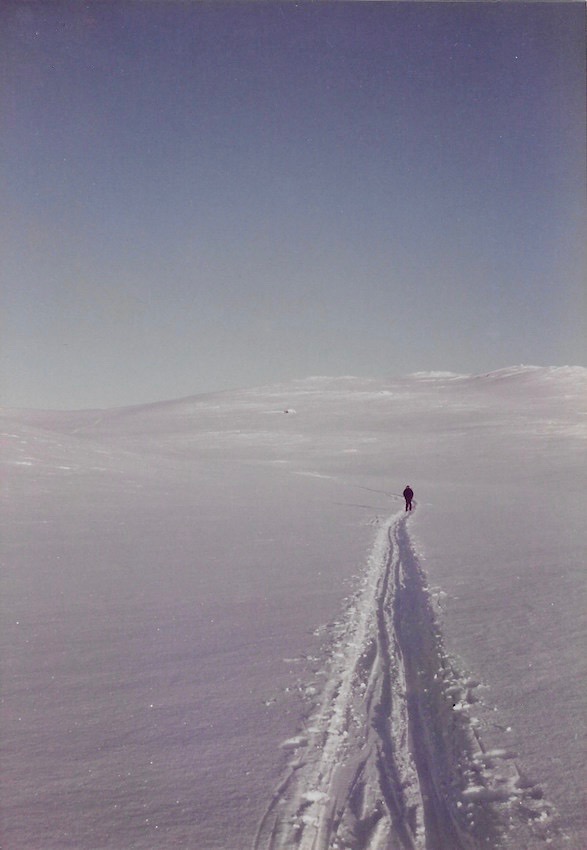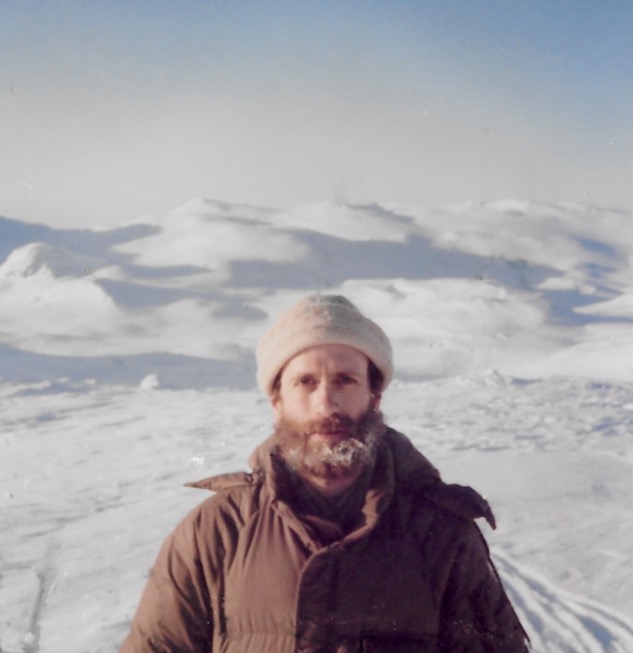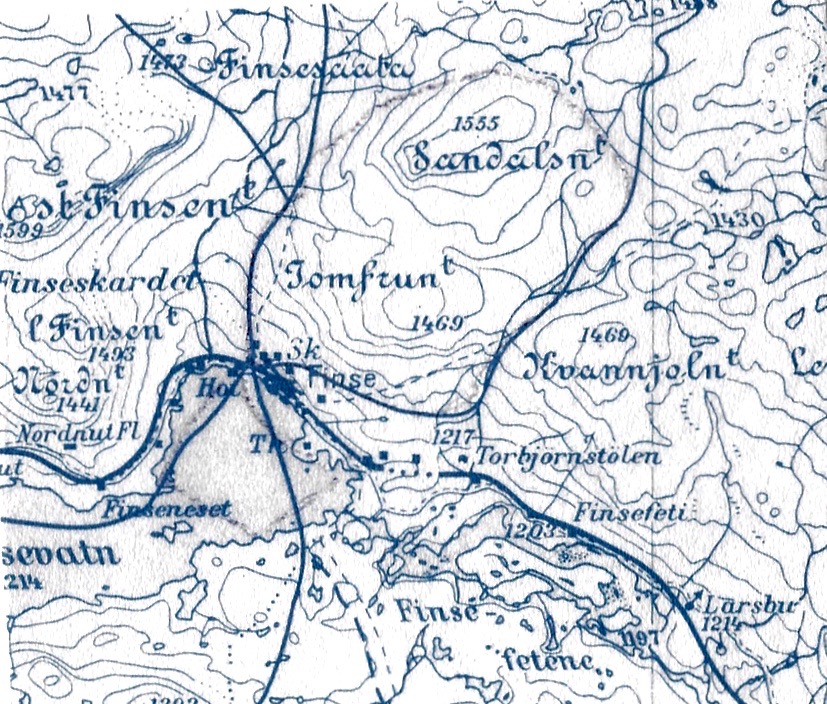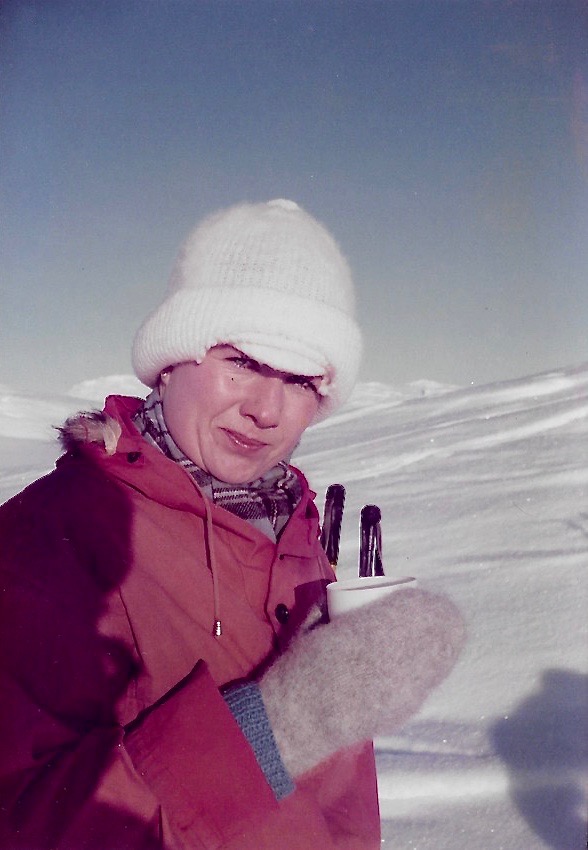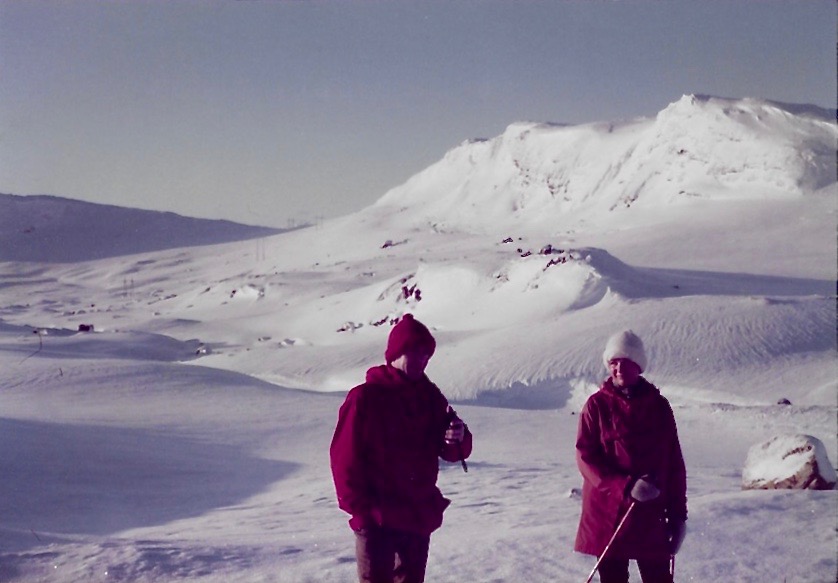 The weather today was not so kind. Wind and snow. Olav is a very strong skier and went further than yesterday. He just left for a second tour to the top of the glacier, Hardangerjøkull. I went out for an hour and a half skiing around on the flat lake next to the hotel. Tonight I go to Bergen to do a little sightseeing tomorrow and to spend New Year's Eve. I'll return to Kongsberg on the 1st to get ready to move on South. I'll spend a few days in Oslo with Thomas Martinsen who I met at Rolf and Jøren's party. We also spent Christmas Eve at the Martinsen's.
A few things about the Norwegian celebration of Christmas that I found interesting and different from America. They use only white lights on their trees that are often decorated with a string of Norwegian flags (plus other things, of course). In their windows they have either a circle or a "V" of white lights/candles: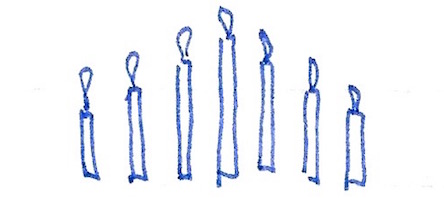 For lunch on Christmas eve the family eats a rice porridge (risegrøt) with milk, sugar, and cinnamon. In the pot is put one almond. Whoever gets the almond in their bowl wins a bag of treats. At the Paulsens I was the lucky one. I think Jøren fudged the laws of chance a little even though she said she didn't.
Before opening gifts everyone joins hands around the tree and circles one way then the other singing a special song, clapping, twirling, and bowing. Very nice.
Thank you for the gifts. I know the sleeping bag was my combination (I think this pen is dying) birthday and Christmas gift. I haven't used it much yet (youth hostels require one to use a sheet "sleeping bag") but will when I visit Thomas and surely in the future.
Jøren knitted knit me a pair of socks and Rolf gave me a small silk Norwegian flag. The short while I spent with them before Christmas gave me enough time to find out what they needed. I gave Rolf a little engraved sign for their mailbox and Jøren a rubber scraper. I got one just like it for you, Mom. The Norwegian word is slikkepot - literally a "pot licker".
The Paulsens have been very hospitable and generous and attentive. Almost too much so. They keep offering food and I have to accept until I've eaten too much and feel uncomfortable. They arranged my travel from Kongsberg to Finse and Jøren planned and planned and tried every possible combination of routes and means and worried and schemed and talked and worried. Beyond reason. I told Rolf, "This is, after all, my trip." He said, "Oh no, it isn't."
I will spend New Year's Eve in Bergen to satisfy my need for solitude and independence and return to Kongsberg fresh. Now a sauna and perhaps a roll in the snow!
Jón
P.S. I've learned how to write and pronounce our last name:
Bjørnstad
"Beyornstahd" not "Beyornstead" [[ even better: "Be yearn stahd" ]]
Actually, it is Bjørnsrud.
By the way, I met the Bjørnsruds in Uvdal - Numedal near Rødberg. My third cousins [we have the same great great grandparents], Lars Ole and Knut Morten, are very fine young men.
[[ pictures below are of Knut-Morten, Lars, and their parents Halvard and Britta]]