Prev
Next
Top
84-12-21
*

Stockholm to Stamsund - Letter to Norman and Karen
21 December, 1984
Dear Norman and Karen,
I am in Kongsberg, Norway. I received your tape today and have rather enjoyed listening to it. And I will enjoy it again when I listen to it the second time! I brought my tape machine with me to New York but then sent it home because:
I hadn't used it yet.
I didn't want to damage or lose it during the rigors of travel.
It was kind of heavy and I wanted to reduce what I was lugging around.
I borrowed the Paulsen's machine to listen to your familiar, comforting, welcome, kind voices. The poems and stories were all good and inspiring (I haven't heard Capote's story yet) and well and carefully chosen but I was more touched by your kindness and attention. It's hard to write to someone and not get a response right away but it's harder to speak to someone you can't see. It's a good discipline and for the last 6 weeks that I travelled through Iceland and Northern Europe I wrote many letters to my parents and many postcards to friends and I drew some cards for special people like yourselves (for Jim I drew a remarkable faucet and shower fixture in a bathtub in Borgarnes, Iceland. For his skin he needs to take a bath every morning. He is a bath connaissoir (sp -2)). To give without the possibility of return is an exercise in selflessness.

[ Below I describe a postcard that I drew for Norman and Karen. Norman loves to eat carrots, lots of carrots. Karen is a big milk drinker. So on one side of the card I drew an Icelandic carrot and the other side an image of an Icelandic milk carton. In Icelandic, "gulrót" is carrot and "mjolk" is milk. ]

I can't deny that I eagerly looked forward to hearing how you liked the gulrót-mjolk card. Some things are beyond language. Look at the card. Somewhere in it, I hope, is an expression of our friendship that no number of syllables could express. I sensed some of the same in the sound of your voices today. This is one of the reasons I haven't sent you a postcard or a letter for a while - to give the gulrót-mjolk card time.

In Stockholm I visited the National Museum and Gallery and saw a lovely painting of two beautiful young women taking a sauna. They were nude, in front of a fireplace, and one was sitting down in a big wooden bucket/tub. It was my second favorite thing at the museum, my first being a stunning Swedish woman who was also looking at the paintings. I followed her around. This painting of the women taking a sauna was wonderful and beautful and erotic but I wonder if the painter had the same pleasure that I had after making the gulrót-mjolk card - that of eating the models.

I could give you a quick summary of everything I've done and everywhere I've been and everyone I've met but you would probably be pretty bored by it. Like an interminable slide show. Rather, I'll tell you about a few days in detail. All of my days weren't as eventful.

In Luxembourg I decided to spend the few weeks before Christmas by going to the far north of Norway to experience the short days and the northern lights. In your card, Karen, you advised me to be adventurous! So, I headed for Tromsø, stopping briefly in Bruxelles, Hamburg, Copenhagen, and a little while in Stockholm before heading to Narvick and Tromsø. I had this image of Tromsø as being a nice little town (there is a university there) where it was cold and dark and where only a few rugged individualists lived. I hoped to experience some kind of connection with my past - my ancestors - when I was there - to sense "the seeds of my character and destiny."

Well, I got off the bus in Tromsø and was unpleasantly surprised to see a very big city - 46,000 people! - with plenty of cars and traffic lights and hotels and restaurants and busses - I saw one bus that said Route 30 (or Ruten 30) on the front!

So I wandered a little while looking for a hotel that I knew to be the least expensive - actually more than I wanted to pay. Someone asked me something in Norwegian. I said, "Sorry, I only speak English." She said, "I asked if you were a tourist." I said yes and asked if she knew where Storgata Street was. We exchanged circumstances. She had just arrived on the hurtigruten (literally - "speedy route" - a ship - a coastal steamer) from Stamsund on the Lofoten Islands. She had wanted to go to Harstad but had fallen asleep and for some reason had resisted the attempts of others to wake her. Her name was Nin [neen]. I suggested that we have dinner. The hurtigruten left at 01:30 back to Harstad, it was now about 19:00. So we had a pleasant evening.

I told her about my disillusionment with Tromsø and she told me about Stamsund. She was about 25, works there in a fish packaging plant, was returning to her home in Sweden for Christmas, and that she was an art student. In the morning she was so taken by the sunrise seen from the hurtigruten that she asked the ship's officers for paper any kind of paper to make some watercolor sketches.

She told me of the youth hostel in Stamsund, its friendly warden, how she stayed there for many months, and how beautiful Stamsund and the Lofoten Islands were.

I changed my plans. I decided quickly to leave Tromsø with her on the hurtigruten and go to Stamsund for several days. She called the warden, Roar Justad, to wish him God Jul and to ask if I could come stay. He said that I was welcome, that no one else was there.

I told Nin about my homemade postcards and she asked me to make one for her.

We had a wild time on the hurtigruten. Another woman, Robin, from Boston, spoke fluent Norwegian, and was studying in Sweden and at Tromsø. There were 4 older (45-60) men travelling on business, in various stages of drunkenness. They were charmed by Nin and Robin and bought food and drink for everyone. We stayed up until 04:00 talking about everything and nothing in Norwegian and English.

At Stamsund, I stayed 4 days or rather more exactly I stayed 4 nights. The first day I rested, recovered from the hurtigruten, made some split pea soup on the wood stove, and boiled my incredibly dirty socks. The second day I took a long walk (13 km) in the wrong direction and hitchhiked back. It was not too cold ~ 0-5 degrees C and little snow. The Gulf Stream keeps the coast warmer than inland. That same day or rather night I made a postcard for Nin. The following day I went to church, took a walk in the other direction, and made a postcard for Lisa, a W. German young woman (22 years old) I met in Iceland and whom I plan to visit. And to further feed your fantasies I am considering making a postcard for Diane, an Australian working in London I met on the train to Stockholm. I at least plan to have a cup of tea with her when I am in London. My last day in Stamsund I hitchhiked (the bus left at 12:00 - too late in the day to see much of the country) through a town named Bø [beu] to a town name Å [oh]. In Å I met 3 children. They spoke no English. I said, "mitt naven er Jón Bjørnstad", and they told me theirs. Wanting to do something with them, I bought them some candy at the store. They taught me to say skolabussen and kronebutikk.

Each day the sun tried to rise but at 12:00, it gave up and decided to set instead. The northern lights were unbelievably, fantastically, indescribably, mobile loveliness.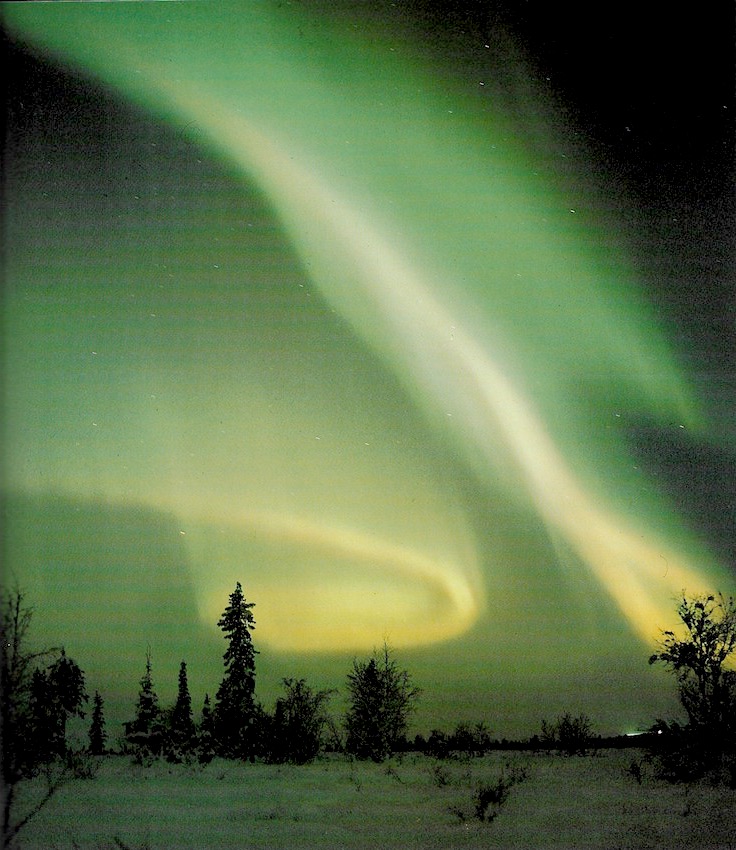 Take care of each other and yourself,
Jon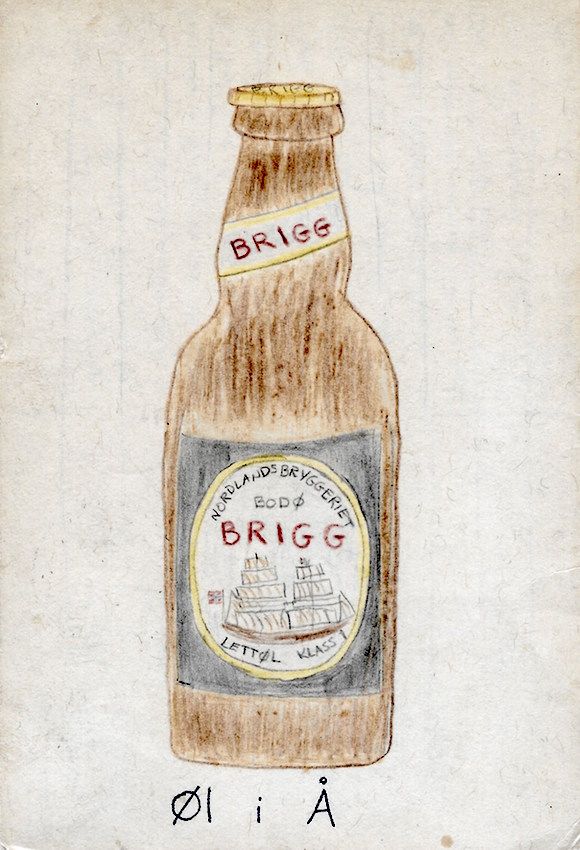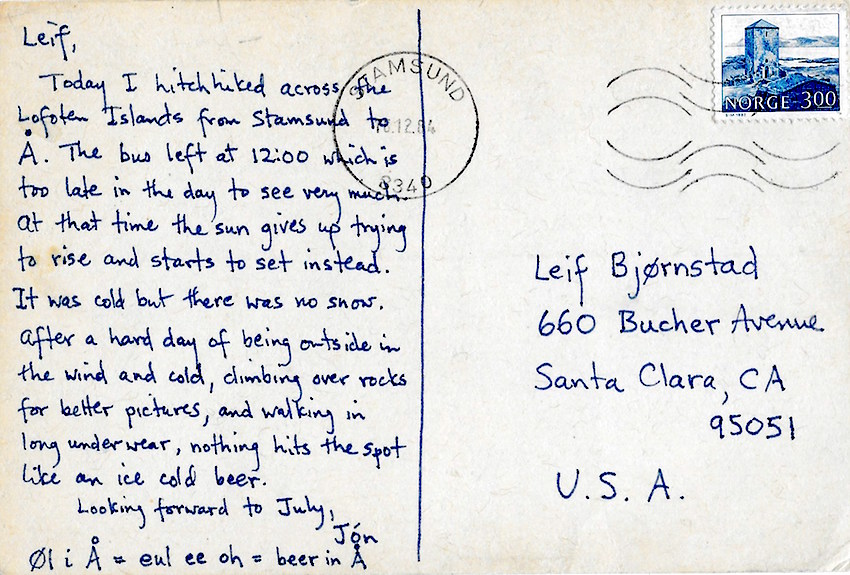 Other Drawing of Beer Bottle for Leif

PrevNextTop84-12-21* Stockholm to Stamsund - Letter to Norman and Karen