Prev
Next
Top
84-12-10
Stockholm, Sweden
10 December 1984
Monday afternoon
Dear Mom and Dad, I'm writing to you a day late again. I'm in Stockholm, Sweden and it's a big city and it has a fast pace and many things to attract and distract and I've been running around helter-skelter, getting lost, and unable to do the things I really need to do.
One thing I did get done this morning was to buy a wheeled frame that you strap your luggage to. A good investment. It will save a lot of stress on my body. The wheel was a good invention.
Today I leave at 1700 heading north to Narvick, Norway. I want to travel in Norway and decided to do it before Christmas. From Narvick I'll take a bus to Harstad and then a ship to Tromsø (pronounced "Trumsa"). My reasons for going there are several - to be in a place where the sun doesn't rise - to go to the Observatory of the Northern Lights at the world's northernmost university - to get away from the big cities. Way up there! When I was in Iceland I saw the northern lights and was charmed. My guidebook Let's Go Europe told me about the observatory. From Tromsø I will head south by ship, then train, stopping in Bodø, Trondheim, Oslo, and then to Kongsberg by the 20th. I'm so looking forward to seeing the Paulsens, celebrating longer days at their party, and then celebrating Christmas and New Years. I look forward to any mail from home - it will be read and reread.
Elin's birthday was on the 8th. I didn't forget. With the Christmas mail crunch I didn't think I could get a card to her on her birthday. I thought that I would write her a letter on her birthday but that day I was caught in the whirlpool of Stockholm. Happy 37th birthday, Elin. Soon we both will be 40.
Swedish women are beautiful.
More people here speak English more fluently than anywhere else I've been except perhaps Denmark where I stopped in Copenhagen for a day on my way north.
I also stopped for a day in Hamburg, W. Germany where I went to a vegetarian restaurant overlooking a canal and a main square. It has been there for 80 years.
I'm sitting on a bench in the Stockholm train station. Someone stuck a piece of paper on the bench with these words printed on it: "Michael Jackson är inget mot Kjell Kraghe". I have no idea what it means. Someone just walked by in new wave clothes carrying a Swedish MAD magazine. After a while one gets used to living in a jabberwocky world of linguistic mysteries.
Swedish women are beautiful.
One night in Stockholm I went to a vegetarian restaurant advertised in an English language magazine about the city. A beautiful place. All you can eat buffet for about $5. I sat next to an older (70) woman by herself and eventually made conversation with her. She owns an art gallery off of one of the main squares and told me all about a man who made a collection of Russian avant-garde art when it was forbidden by the government. She was proud that she helped arrange the first exhibit of such art in the West. The following day I went to the gallery and saw the recent work of a leading American artist named Jim Dine. I'd never heard of him before but I did like his paintings.
The subways in Stockholm were decorated by a group of avant-garde artists. I only saw 3 of the stations. One had what looked like graffiti but it had some sense to it. Another looked like a prehistoric cave with pterodactyls flying around and "moss" on the uneven ceiling and walls. The last had a waterfall. Fun!
Swedish women are beautiful.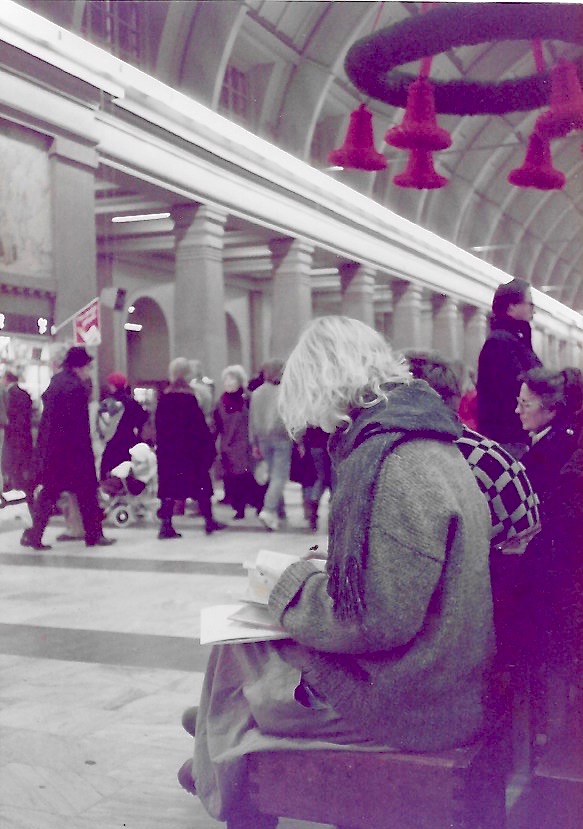 Jón