Prev
Next
Top
84-11-28
Letter from Dad
11-28-84
Dear Jon, Rolf + Joran
Today it is raining, Yona has gone to help at school I am sitting here with nothing to do, so decided to write to you all of you.
Jon, your letters have been a delight, not only to us, but all the people who know you. Please keep them comming.
It is so nice to know you will be with family and friends at christmas it is a special time of year.
I have a garden again this winter. Brokalie, cauliflower, cabbage, celery, carrots, lettuce, snowpeas, garden peas and onions. Not much of each but enough for our table. We still have tomatoes and peppers growing from last summer. It is fun. Don't probably make any money from them but fresh vegetables are so good. The garden this winter is slow, but I think it will come. I just have to wait and talk nice to it.
I golfed last Sat. with Leif, Roger, and B.j. (Gerald's son). Didn't do well but beat Roger, pretty good for an "old man" as B.j. called me.
Yona and I are volenteering at school 3-4 days a week. Young people are so much fun. I work with 4th, 5th and 6th graders. I have devised a football game for boys and girls. They love it (I think). It is fun.
By the way, why don't you call us sometime during the holliday season from the Paulsons. Will be nice to here hear all of your voices. Use the card.
Our small orange tree is loaded with fruit, also the avacado, they will both be ready to pick soon.
12-11-84
I am finnally going to finish this letter. Bank no. and balances are as follows:
06705-07694 cash Max Bal $10,575.55
41st and capitola branch No. 0670
4055 capitola Road
capitola, ca 95010
06709-00662 custom checking Plan - Regular Bal. $391.63
$3.00 charge/mo.
Both of above are to Jon G. Bjornstad
2663 Elliot st, Santa Clara, ca 95051
then this other account.
sahadev software Bal $76.93
El camino - Kiely Branch No. 0865
2900 El camino Real
Santa Clara, ca 95051
charge on this account is $5.00/mo
08653-00036 business checking Plan.

You have to write to them to combine accounts. I cannot do it.
The job I have been doing lately is the present to Jon and Bjorn. A train set with engine, 4 cars and a caboose, on a 4'x8' sheet of plywood. Tracks are set up as follows.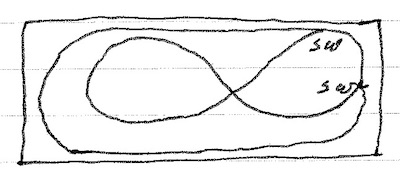 There is a variable power source and a remote control for switches. They may even let you play with it when you get home. It has been fun setting it up and checking it out so that it works.
Love,
Dad