Prev
Next
Top
84-11-18
*

Iceland, Kaldakinn, Akureyeri
November 18, 1984
Dear Mom and Dad,
Funny paper, huh! Apparently here they have 4 ring binders rather than 3. I'm now staying in the youth hostel in Northern Iceland in a town called Akureyri [Ah cure ai thee]. Cheap place ~$6/day, relatively quiet, kitchen, a good place to stay for a few days and rest and catch up on my journal and letters.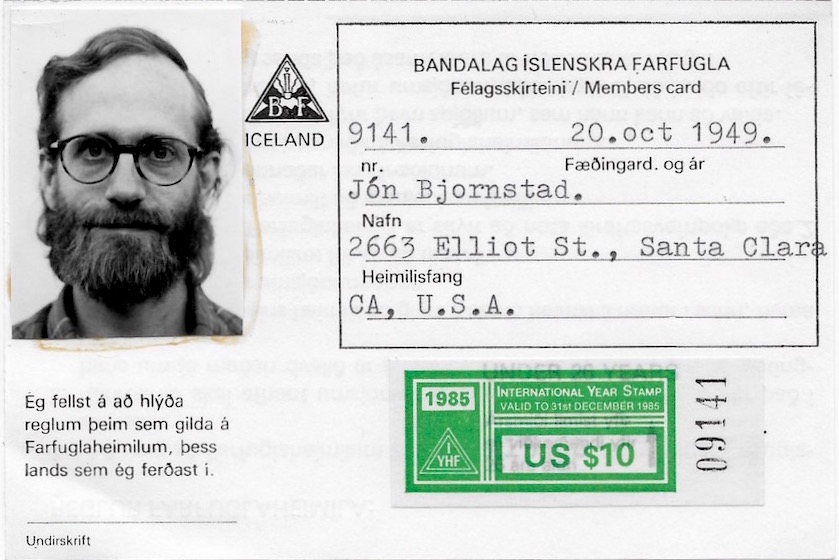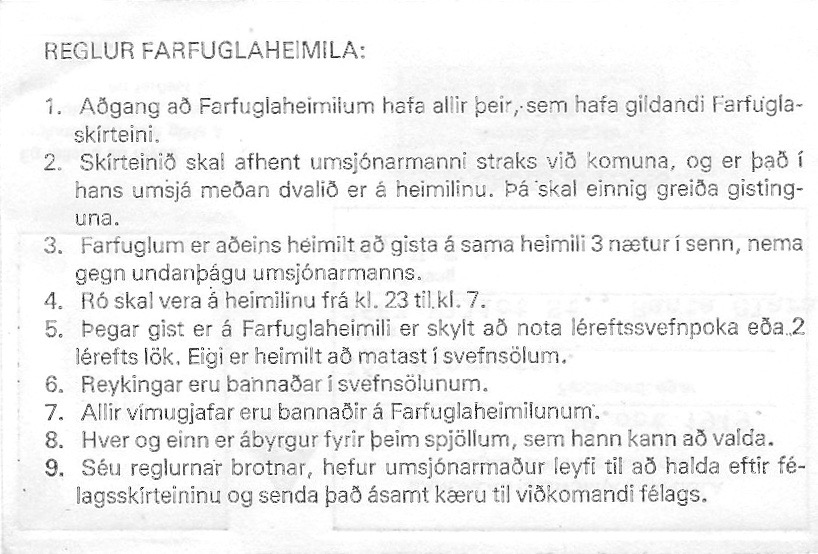 Just returned from Lake Mývatn [Me vaught en] where I spent the weekend. Only other person staying at the hotel there was a rather nice fellow from Switzerland who spoke enough English for us to be good hiking companions. We walked for 4-5 hours on each of Saturday and Sunday through all kinds of terrain. Mountains, craters, grasslands, ice (lots of that), snow, lava (lots), pulverized lava (soft, deep dirt/sand like), hot springs, mud holes boiling over, along and around the lake.
Went swimming in the local pool and had fun playing with 3 kids (aged 11-14) whose names were Valdimir, Una Kristin, and Solveig (like your middle name, Mom). Kids are the same everywhere. Here, as close to the arctic circle as most will every get, kids still play the same way - jumping, racing, laughing, calling each other names, splashing, ... I passed them on their way to the pool and they said "Hello". I said "hello". They said "Islenzka?". I said, "Yes - No. Enska." I asked in gesture if they were going swimming and said I would join them later. In the pool I passed them and they said "Good morning" (It was 6:00 pm), I said "Good morning." Next pass - "Good morning", "Good evening". "Good morning - Goðan Dagan" Then we exchanged names and started to play. Such fun. They laughed at my mispronounciations. Solveig had a good time teaching me to trill the "r" sound in Kräfla. Valdimir had fun practicing his English. After swimming one soaks in "hot pots" - the Icelandic version of hot tubs but these are public, state financed, heated by the hot springs. Everyone uses them almost daily. A good habit.
On Tuesday I took the bus from Reykjavik to Kaldakinn [called a keen]. This is the farm where my great grandfather, Guðmundur Freeman, came from in the late 1800's. Carl told me about it and Einar Siggeirsson arranged it so I could visit the people living there now for about 4 hours. There was a father, mother and two sons. Only one of the sons spoke a little teensy bit of English. I speak an even teensier bit of Icelandic. It was not a typical "visit" with a lot of jabbering. Arni, one of the sons ~22, showed me his photographs. I asked to take one of him hugging a little goat (geit in Islenzka) while several sheep (kind) looked on.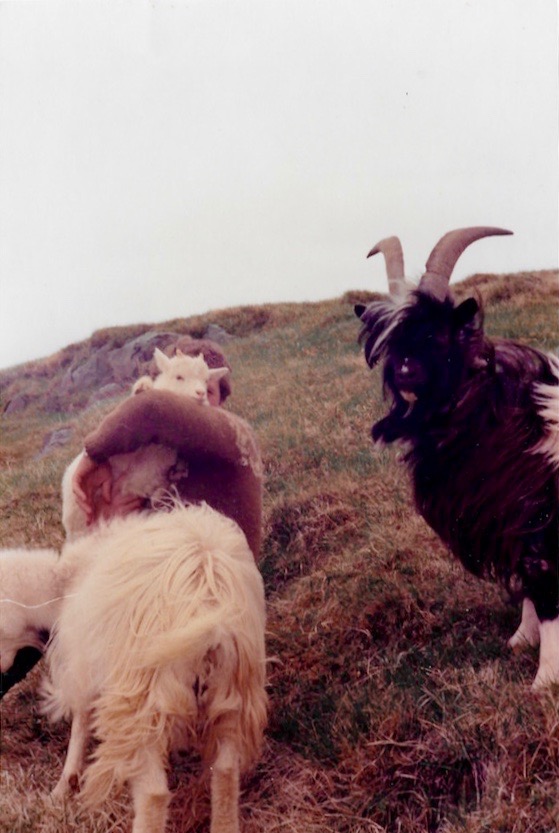 Later he gave me another that I had admired - of a little sod church in SE Ísland.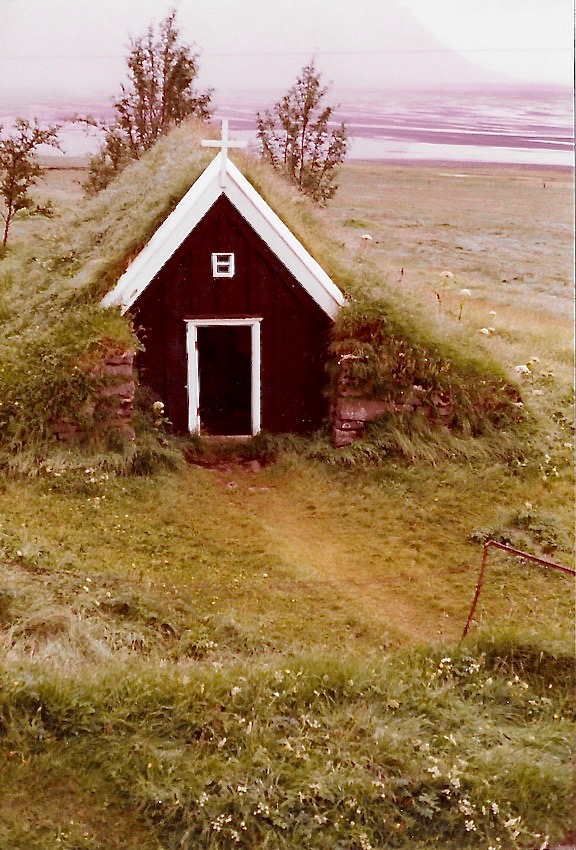 I will send them to you soon for safekeeping [I hope you are keeping these letters. I'd like to read them later].
The mother, Guðrún, served a meal of mutton chops (kind), potatoes (kartofla), beets, some sweet stuff like jelly, and coca-cola to drink and ice cream and fruit cocktail for dessert. Einar Siggeirson had apparently not told them I was vegetarian. There was no way for me to explain, they would not have understood even if I could speak Icelandic. Enjoying the meal was my main way of showing that I cared. So I said a little prayer and had some kind. It was okay. Hard to cut, chew, a little stringy, not exactly tasty. It brought back memories of my youth. I enjoyed it as much as I could. Coffee with molis [sugar cubes] before and after the meal and then again later with pönnakakas [[pancakes]]. Coffee, Coffee, Coffee.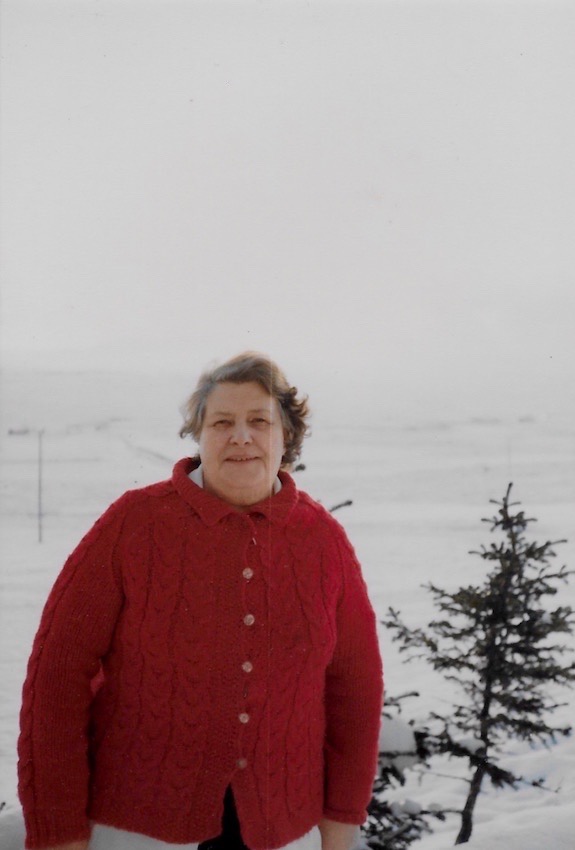 The father, Sigurður, had a book in Icelandic, about the immigration of Icelanders to North Dakota. I'll send the title and author to Carl so he can get it (published in Winnipeg) and translate it for you. If you want a copy, too - Saga Íslendiga Norður-Dakota, author Thorstinu Jackson, Winnipeg, The City Printing and Publishing Company, 1982. I made a drawing of the view from Kaldakinn which I plan to copy and send to several of the descendants (Georgine, Carl, Freeman, ...) It was quite a day. Here for a few days, then to visit Duna, then? - then to Europe! [From now on I pronounce my name "Yone" and write it with an accent!]
Love,
Jón
---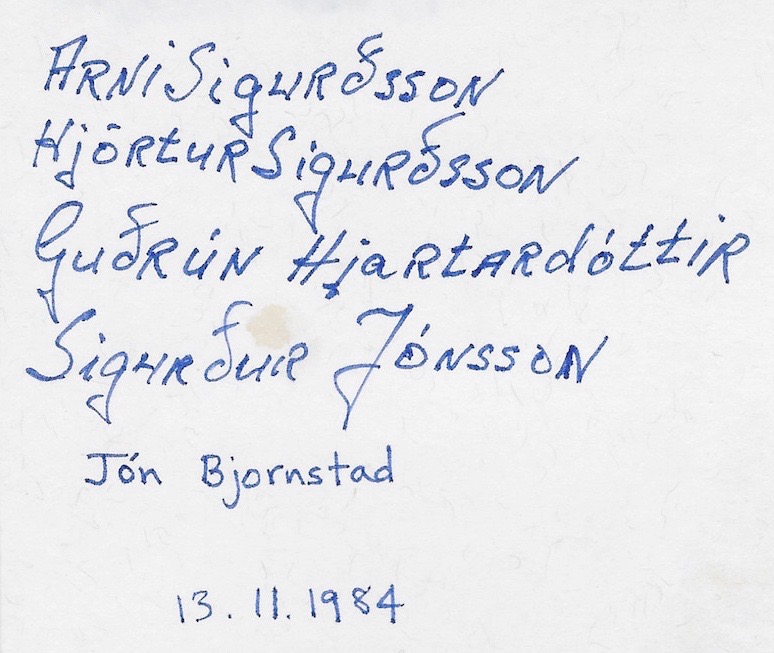 ---
[[Notes to self not in the letter:]]

Tuesday 13.11.1984

At Kaldakinn:

Bus stopped ~12:00. man, young man son got out of Volvo. I got off. Shook hands with the man, said Jón, son said Arni. They spoke with bus driver shortly. Something about 4:00 16:00. Saying nothing we loaded my bag into trunk, took off. Drove for 5-10 minutes in silence. Got to house. Motioned to not take bag in. Took shoes off. Came in, met mother, other son. All was silence. They felt a little uneasy. I began to look around living room. It was like any middle class living room in U.S. Pictures on wall of handiwork. Done by mother probably. TV, pump organ. Radio was on (or turned on later because of silence?) I look around, out window. Motioned that it was beautiful, said "beautiful". Mother, son were there. Sat in chair. Took out camera, drawing set. Son went to get his pictures, camera (a good one), map. Kind, Gate (Geit). I asked, took one of geit.

We had coffee. Moli. Cream. They spoke a little. Not much. Asked to go út hús, ganga. We began. Then Mom said let's eat. Sat down to meal of meat (in center), potatoes (I first thought kartofla when I was writing!), peas & carrots (frozen), shredded beets, some sweet stuff like jelly, coca cola to drink. As we were waiting for all the food to be brought by Mom (4 males at table, mom like waitress) I asked the names of the things. Younger son told me. (He seemed to be the spokesman. Perhaps had learned some English.) They had a good laugh at my mispronounciations. Asked about the meat last. Kjöt, then kind. Mother brought last dish. Father (Sigurdur) placed meat serving utensils toward me. When I first saw that we were going to have kjöt, kind I had realized that the situation left me no choice. I could not explain; I could not make these nice people understand my not eating their main course. Their livelihood was apparently raising sheep for wool and for meat. So I was in for a new (or old) experience. I took the smallest piece. Plenty of potatoes, everything else. I noticed the others took the meat and started to eat it eat it regarded everything else as an accompaniment. Ate potatoes with meat, beets with meat, etc. As soon as I got all the things I cut a little piece of meat. Tough to cut. My piece was small, fatty, gristly. Said a prayer (short, to myself). I understood that I was yielding to a higher principle of kindness. Ate, enjoyed it as much as possible. Yes, it did remind me of my past. Chewy, fibery. Not especially good tasting. I ate potatoes, beets, peas, carrots with interspersed pieces of meat. Whenever I felt that I might be giving the impression of not liking the meat I had another piece. I spread out the fat, gristle as much as I could. Dishes cleared away. For dessert ice cream (vanilla with berries) and canned fruit cocktail. The ice cream was on a big plate as if they took whole box off. It was served I asked how to serve - to cut whole slice off. Ate, took seconds. Then more coffee, cream, molis.

I sat down. They went into kitchen. Little while passed by myself. Then Arni came. I asked to go út hús. We came into kitchen. Father had book about Icelanders settling America. I looked through. Remarked about English intro, map of N.D., Bottineau, men with long beards. Father looked up Freemans, found reference to Guðmundur. I copied down title, author, publisher. We went out. He showed me around. I asked to go various places - inside place where kind were kept. I looked up various words - name (of dog - Lappi), soft, warm (of wool), white, brown. He showed me 1953 Willy Jeep his father was working on. I decided to draw landscapes. Motioned - said tíu minute. Said - you - in hús - went to urinate, coffee! several times, warm hands, showed Mom drawing.
---
excerpt from a letter from Mom:

Hey! - poor you - eating meat after all these years, & eating something yukky like mutton! I remember we had it a lot when I was little - it tasted wooly - & was not the tenderest meat! Next time, try some veal, or a lamb chop or something. It was certainly only polite & right that you did what you did at Kaldakinn, though! Good Boy!
---