Prev
Next
Top
84-11-11
*

First letter from Iceland
Sunday night late, November 11, 1984
Dear Mom and Dad,
So much has happened since my last letter that I may write more than two pages. I will start this letter now and finish it tomorrow since it is very late. I'm sitting on a small single bed in the first floor of Einar Siggeirsson's and Kristinn Friorikdötter's house. The bed has no top sheet or blanket but only a very thick quilt to put on top of you when you sleep. It is quite comfortable. On the little stand near the bed is an old General Electric radio plugged into a transformer to convert the 220 volts to 110. Inside the stand are several boxes labelled ÆSKAN. Inside the boxes are many magazines for children as far as I can tell. Picking one and opening it I see the heading: TARZAN, a drawing of a man, and a photo of a chimpanzee washing a baby in a bathtub. Beneath the heading it says: Filabeinsræningjarnir. Beneath the picture it says: Hún Tina apynja er allra bezta barnfóstra, og ekki er Óli litli ritund hræddur við hana, pótt hún likist litið mömmu hans. There are 4 columns of all kinds of words.
Attached to Around the post of the bed is a little platform on which a lamp is placed. A nifty idea. I've never seen anything like it.

The light switch on the other side of the room is different.

The door handle is different.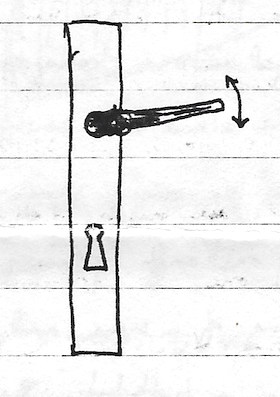 On the other side of the room is a radiator that is supplied with water heated by the natural hot springs. Hanging between the radiator sections is a little container of water. It has some pretty flowers painted on the side. I asked what they were it was for and it's to humidify the room.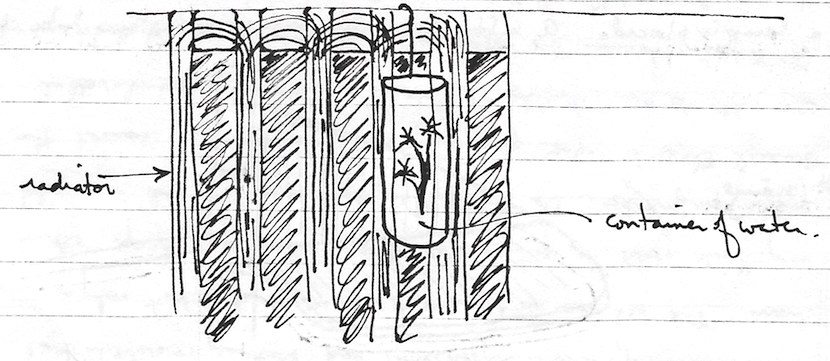 Behind Near the door is a "bean bag" about 4"x10". I asked what it was for and it's a doorstop. Good idea! I never thought of that before. There is a plugin for electricity: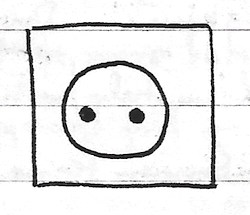 Well, that's a description of where I sleep. In the room there are also two windows, a desk, several chairs, another bed. Many things different many things the same. Now for a quick sketch of events.
Monday - rested in Reston, Virginia. washed clothes, wrote letters, cards.
Tuesday - bus, subway, bus to New York. stayed in YMCA on Manhattan. it was cheap and noisy. didn't sleep well. Had a good dinner, walked around. went to French movie with English subtitles, walked around, had a $5 piece of cheesecake and coffee, played chess on the street at 11:00 pm. called you, Jim
Wednesday - checked bag at Greyhound, got play tickets, met Alan at airport, went to play, had trouble finding hotel, visited until late.
Thursday - slept late, had good Italian lunch, went to airport, exchanged $90 for Icelandic money - got lots of bills! 2450 Króner! Took off, was sitting next to a very kind and jolly Icelander who spoke English very well. On the other side was a somewhat disturbed French woman. Left NY at 8:30 pm Arrived Iceland 7:00 am Friday (5 hrs. time change)
Friday - Through customs no problem, bus from Keflavik to Reykjavik. Met young fellow on bus from California, exchanged phone numbers. Called Einar Siggeirson, he came to pick me up. Met Kristinn. Visited a little. Went to bed, slept till 4:00 on Kristinn's advice. Dinner. Visited, visited. Watched TV (it is broadcast only from 7:30 pm - 12:00, commercials all at once, no TV on Tuesday)
Saturday - Went shopping for some things I discovered taken from the extra pouch on my pack (knife, scissors, flashlight, Rubik's cube, few others) Lunch. Swimming in outdoor pool, "hot tubs" - heated by hot springs. Morning, afternoon got tours of Reykjavik. Dinner - with friend of Kristinn's who is from U.S. I offered my help (sometime) with her computer - she is writing a dictionary of Icelandic business terms. Watched TV movie in Japanese with Icelandic subtitles. Called fellow I met at airport - named Hank. Was invited to go on drive with his friends to countryside Sunday.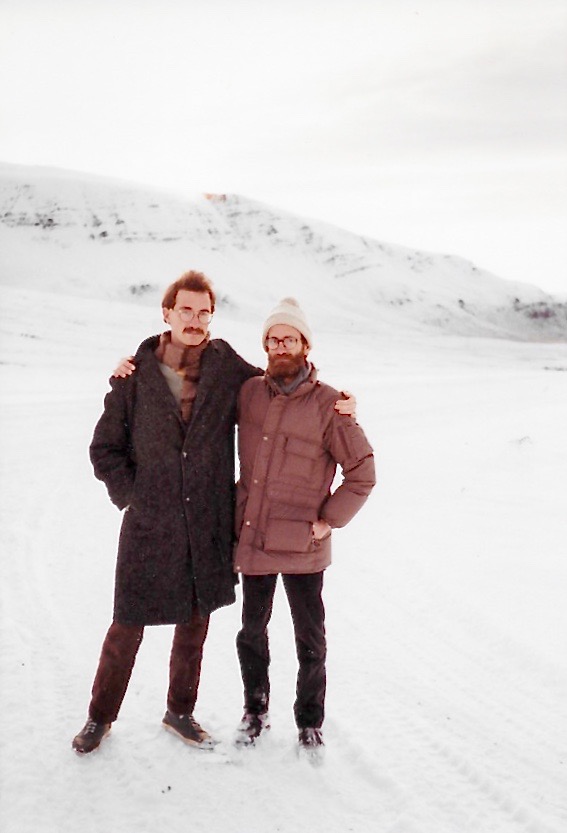 Sunday - went to church where Hjalti Sigmundson is pastor (was at Mountain, N.D.). Went on drive, met two young Icelanders - Ráðhilder and Tumi. Introduced myself as Jón pronounced "yone". Seemed just right. Had very interesting drive, conversation, then dinner, more talk, became good friends, exchanged addresses. Will visit them in England.
Monday (today) - Went to Einar's school. biology, math, geography classes - met Ólafur Sk&uacute'lasson - another pastor at Mountain. More shopping, walking in snow. I kept saying "Do you speak English" and Þakka Þakka.
Einar and Kristinn have been very kind to me. They are both incredible linguists. Icelandic, English, Danish, French, Spanish, German, etc etc. Einar defended his doctor's thesis in Latin! As a single language American I feel humbled even ashamed. Einar has a penetrating clever mind and a wry sense of humor. He is a true scientist and has taught me a lot. Kristinn works as a nurse, goes swimming 3-4 times a week with her friends, raised 3 children, is an amma now, sings in choir, serves delicious Icelandic food - potatoes, great bread, cheese, rice and milk, honey, carrots, tomatoes, rutabagas, kringla, skyrr, ... and coffee and fish (Iceland's staple food and most important export [[ but which I did not eat ]]).
Jæjá, Jæjá, Jæjá,
Góða nótt.
I think of you often,
Your loving son,
Jón