Tanya's Tomatoes and the Mystery of the Garden
Tanya likes to grow tomatoes. Here is part of the harvest from 2019: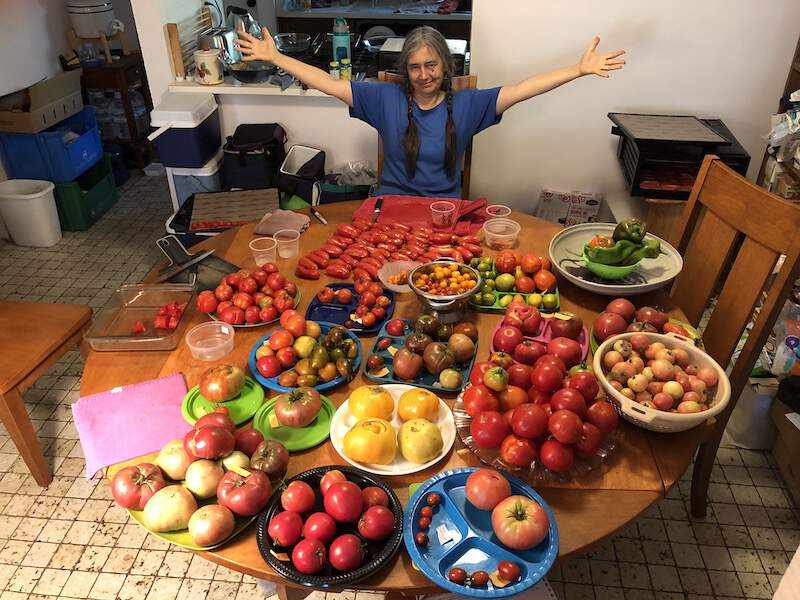 2020 is quite a different matter and several mysterious challenges arose. With a little bit of figuring and careful calculation you can help unlock the mystery!
Tanya's Tomato SeedsApril 27, 2020
"Amish Bicolor"
100 Pudov
1000 Fleurs
1884
Abbey's Catch
ABC Potato Leaf
Abe Lincoln
Absinthe
Ace
Amazon Chocolate
Amazon Chocolate PL
Ambrosia Gold
Ambrosia Red
Ambrosia UBX
Amethyst Cream Cherry
Amethyst Jewel
Amish Paste
Amy's Sugar Gem
Ananas Noire
Angoor Lata
Anmore Treasures
Anna Aasa
Anna Russian
Annie Sunshine
Apelsin
ARGG Cherry
Arkashin
Armenian
Ashleigh
Atkinson
Aunt Anna
Aunt Gertie's Gold
Aunt Ginny's Purple
Aunt Ruby's German Green
Aurega
Aussie
Azoychka
Aztek
Babywine
Barlow Japanese
Basket Vee
Be My Baby Gene Pool
Beam's Yellow Pear
Bear Claw
Bear Creek
Beauty King
Belarus Orange
Belarusian Heart
Belgian Pounder
Belyi Naliv
Berkeley Tie Dye
Bicolor Cherry
Big Beef F1
Big Beef x EPB
Big Cheef
Big Rainbow
Birjnesekutsky
Bison
Biyskaya Roza
BKX
Black
Black & Brown Boar
Black & Red Boar
Black Amber
Black Bear
Black Brandywine
Black Cherry
Black Early
Black from Tula
Black Hole Sun
Black Krim
Black Magic
Black Master
Black Moor
Black Opal
Black Pear/Siberian
Black Plum
Black Prince
Black Russian
Black Sea Man
Black Star
Black Striped Heart
Black Vernissage
Black Zebra
Black Zebra Cherry
Blackberry
Bleue P20
Blonde Boar
Blondkopfchen
Bloody Butcher (Marko)
Blue Beauty
Blue Chocolate
Blue Ridge Black
Blue Ridge Mountain
Blue Suede-uth F1
Blush
Bonny Best
Bordo
Bosque Blue
Brad's Black Heart
Bradley
Brandeva
Brandywine Cherry Dark
Brandywine from Croatia
Brandywine Glick's
Brandywine Iva
Brandywine OTV
Brandywine Pink Cherry
Brandywine Sudduth
Brazilian Beauty
Bread and Salt
Brianna
Brown Berry
Bulgarian 7
Bulgarian Old Sort/ No Name
Bulgarian Triumph
Burbank Red Slicer
Burning Spear
Bursztyn
Bushy Chabarovsky
Butterball Cherry
Cabin PL
Camp Joy
Cannon Ball
Captain Lucky
Carbon
Carbon Copy
Carie Claxon
Casino Chips
Caspian Pink
Ceman
Chadwick Cherry
Champagne Cherry

Chang Li
Chapman
Charles Herring Porter
Cherokee Chocolate
Cherokee Green
Cherokee Green Grape
Cherokee Lime
Cherokee Lime Stripes
Cherokee Purple
Cherry Falls
Cherry Roma
Chianti Rose
Chico Grande
Chili Verde
Chinese
Chocolate Cherry
Chocolate Stripes
Chocolate Vintage
Chudo Rinka
Clear Pink Early
Coastal Pride Orange
Coeur de Surpriz
Cole
Copper River
Cosmonaut Volkov
Costoluto
Cowlick's Brandywine
Coyote
Cream Sausage
Crimson Carmello F1
Crnkovic Yugoslavian
Croatia Joanna YMCA
Csikos Botenno
Cuban Black
Cuor d'Albegnia
Cuor di Bue (heart?)
Cuor di Bue (piriform)
Cuostralee
Dagestanskiy
Dagma's Perfection
Dana's Dusky Rose
Daniel Burson
Daniels
Danko
Dark Galaxy
Darth Mater
David's Pink
De Chilo
Deep Space
Depp's Pink Firefly
Dester
Dice's Mystery Black
Dixiewine
Djena Lee's Golden Girl
Don's Double Delight
Donskoi
Dora
Doubloon
Dr. Carolyn
Dr. Lyle
Dr. Wyche's
Druzba
Dwarf Arctic Rose
Dwarf Beryl Beauty
Dwarf Jade Beauty
Dwarf Kelly Green
Dwarf Mr. Snow
Dwarf Wild Fred
Dynnye
Earl's Faux
Earliana
Early Annie
Efimir
Eh Lim
Elgin Pink
Eli
Emerald Apple
Emerald Evergreen
Ernesto
Esmerelda Golosina
Eva Purple Ball
Everglades
Evergreen
Faworyt
First Mate
Fish Lake Oxheart (pink)
Fish Lake Oxheart (red)
Fox Cherry
Franki Italian Pear
Frankstein
Frenki
Fritz Ackerman
Fuego Verde
Fuzzy Peach
Galina's Yellow
Garden Lime
Garden Peach
Gardener's Delight
Gardener's Sweetheart
Garnet
Gary'O Sena
Genuwine F2
George Detsikas Italian Red
George O'Brien
German Giant
German Johnson
German Johnson -- Benton Strain
German Pink Tree
German Red Strawberry
Giannini
Gigantesque
Gildo Pietroboni
Girl Girl's Weird Thing
Giuseppe's Big Boy
Glacier
Glamour
Gloria
Glory of Moldova
Gogosha
Gold Nugget
Goldkrone
Goldman's Italian American
Goliath F1
Goose Creek
Grandma Oliver Chocolate
Granny Cantrell
Granny's Heart
Great Belgian
Great White
Greek Domata
Green Bell Pepper
Green Doctors
Green Doctors Frosted

Green Gail
Green Giant
Green Grape
Green Tiger
Green Velvet
Green Zebra
Green Zebra Cherry
Gregori's Altai
Grightmire's Pride
Grosse Verte Rose
Grot
Grub's Mystery Green
Grusha Rozovaya
Guernsey Pink Blush
Guker's Special
Gypsy
Haley's Purple Comet
Ham Green Favorite
Hays
Herman's Yellow
Hillbilly RL
Hippie Zebra
Honeydrop Cherry
Hsiao Hsu Hing Shiu
Hugh's Black
Hungarian Heart
Hungarian Italian
Idaho Hillbilly
Ildi
Indian Moon
Indian Stripe PL
Indigo Cherry Drops
Indigo Kumquat F2
Indigo Rose
Italian Heirloom
Iva's Red Berry
Jantarnij Kubok
Japanese Black
Japanese Plum
Jaune Flamme
JD's Special C-Tex
Jewels of Odiorne
Joe Lauerer
Joe's Pink Oxheart
June Pink
Kalman's Hungarian Pink
Kang Bing
Kanner Hoell
Kardinal Mazarini
Karma Pink F7
Kazachka
KBX
Kellogg's Breakfast
Kenai Mondo Green
Khirkhiv
Khurma
Kimberley
Kiss the Sky
Klukva v Sahare
Koralik
Korol Rannikh
Koroleva
Kosciusko Verte
Kosovo
Large Barred Boar
Large Pink Bulgarian
Large Red Cherry
Lavender Lake
Lida Ukrainian
Lillian Marie
Lillian's Yellow
Limbaugh's Legacy
Lincoln Adams
Linda's Faux
Little Lucky
Livingston's Beauty
Liz Birt
Lotos
Lucid Gem
Lucky Tiger
Lvinoe Serdtse
Lyuda's Mom's Large Red
Madara
Madison County Pink
Maglia Rosa
Magnus
Maiden's Kiss
Maiden's Pride
Malakhitovaya Shkatulka
Malinovoe Chudo
Mama Alla
Mandarin Cross
Manitoba
Marek's Pointy Heart
Margaret Curtain
Maria Amazilitei's Giant Red
Marianna's Peace
Marion
Marizol Bratka (Purple Brandy)
Marizol Gold
Marizol Korney
Market Wonder
Marmande
Marmande Garnier Rouge
Marmande Verte
MarNar F6
Mary Huddleston
Maska's Favorite
Master Carnosa
Mat-Su Express
Maya & Sion's Airdrie Classic
Mayo's Delight
McKinley
McMurray
Medovaya Kaplya
Megatrusses
Meme Beauce
Mennonite Orange
Michael Pollan
Microbeicum Occemus
Mikhalych
Milka's Red Bulgarian
Mini Gold
Minsky Rannij
Mocha Splash
Mom's Heart
Momotaro OP, F2, F3
Monomakh's Hat
Morado
Moravi
Moravsky Div
Mortgage Lifter
Moskovich

Mountain Gold
Mountain Pride
Mr. Stripey
Mrs. Benson
Mushroom Basket
Nefertiti
Negrillo de Almoguerra
Negro Azteca
Negro de Jaen
Nepal
Neves Azorean Red
New Big Dwarf
Nicholayev Yellow Cherry
Noire Charbonneuse
Not Purple Strawberry
Nyagous
O.S.U.
Oaxacan Pink
Odessa
Olena Ukrainian
Olive Hill
Oncle Remi
Opalka
Orange Berry Cherry
Orange Caprese
Orange Icicle
Orange Jazz
Orange Minsk
Orange Minsk Heart
Orange Russian 117
Orange Santa
Orange Strawberry
Oranje van Goejenbier
Orlov Yellow
Outdoor Girl
Oziris
Pale Perfect Purple
Palestinian Redheart
Palo Alto
Pantano Romanesco
Paul Robeson
Peacevine Cherry
Pearls of Wisdom
Persey
Persimmon
Persuasion
Pervaya Lyubov
Petaluma Hill Purple
Petit Moineau
Pierce's Pride
Pineapple
Pineapple Pig
Pink Berkeley Tie Dye
Pink Boar
Pink Bumble Bee
Pink Cadillac
Pink Furry Boar
Pink Ice
Pink Ping Pong
Pink Ruffles
Pink Sweet
Pink Tumbler
Pink Vernissage
Pit Viper
Plum Lemon
Podarok Fei
Pokomoke
Polish Dwarf
Polish Linguisa
Poll Robeson Angolan
Pomodoro Pero Gigante
Pompeii F1
Ponderosa Red
Pork Chop
Porter
Portuguese Monster
Pozhar
Prescott
Primrose Gage
Principe Borghese
Pruden's Purple
Prue
Prune Verte
Purple Brandy
Purple Bumble Bee
Purple Calabash
Purple Dog Creek
Purple Haze F2, F3, F4, F5
Purple Passion
Purple Russian
Qiyanai-Huang
Raspberry Beret F1
Raspberry Giant
Razzleberry
Rebecca Sebastian's Bull Bag
Rebel Alliance F6
Rebel Yell
Red Barn
Red Boar
Red Butter Heart
Red Fig
Red Furry Boar
Red Heart
Red Pear
Red Rocket
Red Zebra
Reif Red Heart
Remy Rouge
Rinaldo
Robe Mountain Tommy Toe
Rocket
Roma Bush
Roman Candle
Ron's Carbon Copy F7
Rosa de Zarautz
Rosalita
Rose de Berne
Rosella Crimson
Rouge d'Irak
Rozalinda
Rozovyi Gigant
Rozovyi Myod (Pink Honey)
Ruffled Orange
Russian 117
Russian Apple Tree
Russian Cossack
Russian Rose
Russian Soul, Russkaya Dusha
Russo Bruno F3
Russo Sicilian Togeta
Rutgers
Ruth's Perfect
Sakharnaya Sliva Malinovaya

Sakharnyi Pudovichok
Sakharnyi Zheltyi
San Francisco Fog
San Marzano
Sandul Moldovan
Sandy's Chocolate Cherry
Sara Black
Seek No Further Love Apple
Sekai Ichi
Selbo's Red Ribbed
Sen-Say
Serdtse Buivola
Serdtse Dezdemony
Sexy Beast
Shadow Boxing
Shaker Village
Shannon's
Shchelkovskiy Ranniy
Shedra Sliva Tarasenka
Shuntukski Velikan
Siberian
Sibirskiy Skorospelyi
Sibirskiy Stambovij
Sicilian
Sladkiy Ponchik
Slavyanskiy Shedevr
Sleeping Lady
Slovenian Black
Snow White Cherry
Solar Flare
Sophie's Choice
Sosulka Rozovaya
Soyuz 11
Spear's Tennessee Green
Speckled Roman
Spudakee
Spudatula
Spudayellow
St. Pierre
Strawberry Margarita
Strawberry Tiger
Striped Sweetheart Dark
Stripes of Yore
Stump of the World
Stupice
Sugar Drop
Summer's Choice
Summertime Gold
Summertime Green
Sun Sugar F1
Sungold F1
Sunrise Bumble Bee
Sunset's Red Horizon
Super Bush
Super Snow White
Sweet Beverly
Sweet Carneros Pink
Sweet Gold F1
Sweet Horizon
Sweet Meat
Sweet Million
Sweet Ozark Orange
Sweet Thing Cherry Red
Sweetie
Syzranka-- not
Taimyr
Tasmanian Chocolate
Tatjana
Ted's Pink Currant
Tennessee Britches
Tennessee Suited
Tennessee Surprise
Terhune
Texas Pink
Texwine
Tigerlike
Tiny Tim
Tlacoula
Tobolsk
Tom's Yellow Wonder
Tommy Toe
Tommy Toe Yellow
Tony's Italian
Topaz
Tsar-Kolokol
Tsungshigo Chinese
Turkish Ayla
Turkish Striped Monastery
Ukrainian Heart
Ukrainian Purple
Uluru Ochre
Uncle Baines Pink Beefsteak
Utyonok
Van Wert Ohio
VB Russia
Venetian Marketplace
Vera's Seed
Vernissage Yellow
Versalkie
Vinson Watts
Vintage Wine
Violet Jasper
Virginia Sweets
Vorlon
Wapsipinicon Peach
Warren's Yellow Cherry
Weisnicht's Potato Leaf
Wes
Wessel's Purple Pride
White Furry Boar
White Princess
Willa's Cariboo Rose
Wine Jug
Winter Grape
Wuhib
Yamal
Yaponskiy Krab
Yellow Brandywine Platfoot
Yellow Clusters
Yellow Oxheart
Yellow Submarine
Zaitska
Zapotec
Zarca
Zarnitsa
Zebra Rita
Zeke Dishman
Zhefen Short
Zluta Kytice
Zogola
Zolotoe Serdtse
Zolotoe Zapas
[orange salad]


Seed Scientist at Work:

This year she chose only 40 different varieties of tomato seeds to germinate. Also a few peppers, eggplants, and basils.

The young baby seedlings (Tanya pointed out that this is triply redundant - I plead poetic license):

Here is Molière, the watchcat, guarding the many seedlings.

Where to plant them? In our community garden, of course.